EU Commission leaders appear unwilling to attend football matches taking place in Ukraine this summer as part of Euro 2012, citing concern over the treatment of imprisoned opposition figurehead Yulia Tymoshenko.
Commission President Jose Manuel Barroso raised the issue during a weekly meeting on Wednesday, saying he did not currently intend to travel to matches in Ukraine.
"During the discussion, it became clear that it is a position that all shared," a spokesman for the EU Commission said on Thursday. The spokesman also said, however, that the term "boycott" was inaccurate, given that it only pertained to half of the Euro 2012 fixtures.
A spokesman for European Council President Hermann van Rompuy, meanwhile, said on Thursday that the Belgian politician would not attend the games.
"The president does not like the way the situation in Ukraine is developing," van Rompuy's spokesman said. "Therefore he will not travel there."
There has been similar speculation in Germany, with several outlets reporting that Chancellor Angela Merkel was also considering staying away.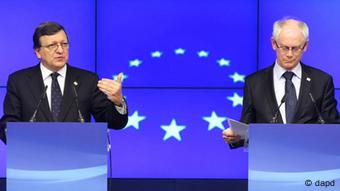 Barroso and van Rompuy both appeear set to stay away, for now
"Much more important than my travel plans is that we must now do everything possible to see that Yulia Tymoshenko gets the proper treatment for her medical problems as soon as possible," Merkel told the Kölner Stadt-Anzeiger newspaper on Thursday. "The German government has been working on this for weeks and our offer stands for her to receive this medical treatment in Germany."
Any German "boycott," however, would not affect the highly-fancied German national team. The president of the German FA (DFB), Wolfgang Niersbach, said his organization was "absolutely against a sporting boycott. And that is also the unanimous opinion of the federal government."
Free Democrat questions final
The German national team will play all three of its group phase matches - against Portugal, the Netherlands and Denmark - in Ukraine. The final will take place on July 1 in the Ukrainian capital Kyiv.
Merkel's statements mirrored comments made on Wednesday by Foreign Minister Guido Westerwelle of the pro-business Free Democrats (FDP).
One FDP parliamentarian, Patrick Meinhardt, called Thursday for the final to be moved to the Polish capital Warsaw. He said he had written a letter to UEFA boss Michel Platini suggesting this. He also lauded the EU Commission's decision to stay away from games in Ukraine, calling it "the right political signal."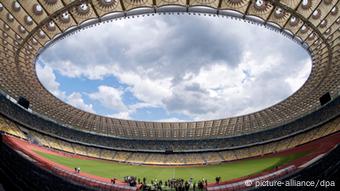 The Olympic Stadium in Kyiv will host the July 1 Euro 2012 final
The government in Kyiv also issued a statement Thursday, saying attempts to politicize the tournament were destructive and would amount in a loss for millions.
"The foreign ministry considers attempts to politicize sporting events to be destructive," the ministry statement said. "A successful championship will be a victory not for politicians, parties or ideologies, but for all Ukrainians and all Poles. Its failure will be a loss for millions."
Russian president-elect Vladimir Putin was quoted by the Interfax news agency as saying Tymoshenko would be welcome to come to Russia for medical treatment, though he argued against any boycott.
"One must not in any circumstances mix politics, business and other questions of this sort with sport," Putin told Interfax.
Yulia Tymoshenko was sentenced to seven years in prison last October on charges of signing oil deals with Russia that disadvantaged Ukraine during her time as prime minister. She says she has been beaten in prison, is suffering from back problems and recently launched a hunger strike in protest. She denies any wrongdoing and says her imprisonment is an attempt to stifle the opposition orchestrated by her arch-rival President Viktor Yanukovych.
Co-host Poland urges restraint
Polish Prime Minister Donald Tusk on Thursday called any boycott talk "inappropriate," though he also said that it was not necessary to stay away from football matches in order to show solidarity with Tymoshenko.
"There is nothing to prevent - even during the European Championships - [people] from showing this solidarity clearly … We will do so," Tusk said.
Opposition leader Jaroslaw Kaczynski, however, spoke out in favor of boycotting Euro 2012 matches in Ukraine.
President Bronislav Komorovski said in a television interview that the current attention on Ukraine was overblown when compared to arguably the two most memorable cases in which a boycott was mooted - namely the 1980 Olympics in Russia and the 2008 Games in Beijing.
"These were due to the Russian invasion of Afghanistan and the brutally repressed attempts at freedom from Tibetans, which resulted in bloodshed and mass arrests. The situation in Ukraine is different," Komorovski told the TVP1 station. The Polish president also warned that a widespread European boycott could endanger talks aiming for closer cooperation with Ukraine.
Ukraine is currently one of five countries with EU candidacy status, meaning it has been officially recognized as a prospective member of the bloc, pending various political and economic requirements.
msh/mz (AFP, AP, dpa, Reuters)