The European Parliament awarded the prestigious Sakharov human rights prize to Cuban dissident Guillermo Farinas on Wednesday. The Parliament praised Farinas as a "symbol of the fight for freedom of speech" and democracy.
Farinas received news of the award at his home in the central Cuban city of Santa Clara.
"The civilized world, the European Parliament, is sending a
message to the Cuban governing class that it's time for democracy and freedom of thought and expression in Cuba: an end to the dictatorship," Farinas said.
Farinas added that the award was not for him, "but rather
for the Cuban people, who for the past 50 years have been struggling to get out of this dictatorship."
A peaceful protester
Farinas is one of Cuba's most prominent human rights activists. In July, the 48-year-old psychologist ended a hunger strike after Cuba released a large group of dissidents imprisoned for their criticism of the regime. They had been among 75 opposition figures arrested in the Cuban "black spring" in 2003.

During his 2010 hunger strike, Farinas had to be drip-fed so he wouldn't starve
Farinas, who is the third Cuban to recieve the award, spent most of this time on hunger strike in a hospital where he was drip-fed to avoid starvation.
"I think the situation in Cuba has changed," he said after the strike. "And this is first and foremost because of the pro-democracy movement in Cuba that has fought for the freedom of political prisoners."
Eleven years in prison
Farinas has taken part in as many as 23 hunger strikes, directed first against former Cuban leader Fidel Castro and now against Castro's brother, Raul, who has since replaced him as leader of the nation. Yet Farinas started out as a supporter of the Cuban Revolution. His father fought alongside Marxist revolutionary Che Guevara during the 1965 Congo crisis.
But Farinas soon distanced himself from the Cuban leadership. In the late 1980s he left the communist youth organization and moved towards the opposition. Since then he has suffered through numerous trials and accusations. He has spent a total of 11 years in prison.
"I dedicate this prize to Cuba, to the people that have suffered so much and are still suffering," Farinas said ahead of the announcement.
"I dedicate it to all Cubans who have died because they fought for democracy - and to all those who have supported me in my hunger strikes and to those who have not given up in the face of massive propaganda against me."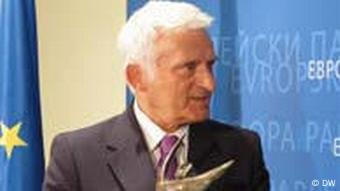 Buzek praised Farinas for risking his own life in protest
The prize, which is named after the late Soviet dissident Andrei Sakharov, has been awarded to world figures such as Nelson Mandela, Burmese opposition leader Aung San Suu Kyi and former United Nations Secretary-General Kofi Annan. It is endowed with 50,000 euros ($70,100).
European Parliament President Jerzy Buzek praised Farinas, saying the activist was "ready to sacrifice and risk his own health and life as a means of pressure to achieve change in Cuba."
The EU lifted its diplomatic sanctions against Cuba in 2008 but still ties its economic cooperation with the country to the plight of its political prisoners.
Author: Andreas Illmer, David Levitz (dpa, AFP)
Editor: Chuck Penfold