At this point in time, Abdullah Gul is still Turkey's president. His duties, just like those of his predecessors, are largely ceremonial. However, he has the right to interfere in the day-to-day business of politics, revoke legislation and dissolve the parliament. He has limited veto rights and can nominate a few senior officials. But Gul doesn't have the right to change the constitution.
That is exactly what Prime Minister Recep Tayyip Erdogan aims to do. "A new constitution on our path to a new Turkey will be one of our priorities," Erdogan told supporters in Istanbul, adding that a new constitution "means a new future." That is certainly true for Erdogan himself. As prime minister, he can't run for a fourth term, but winning the presidency would ensure political clout for the future.
True power
A constitutional amendment would enable Erdogan to shape Turkish politics more actively than his predecessors. Winning the presidential election is the first step in that direction, but in order to change the constitution Erdogan's AKP party also needs a two-thirds majority in parliament - 367 seats to be exact. If Erdogan wins the presidency on Sunday, it is up to him to decide whether parliamentary polls go ahead as planned next year, or in just a few months time.
Currently, the AKP has a comfortable 313-seat majority in parliament. Should it garner more than 330 seats in the polls but fail to win a two-thirds majority, Erdogan could choose to hold a referendum on constitutional changes.
Opposition candidates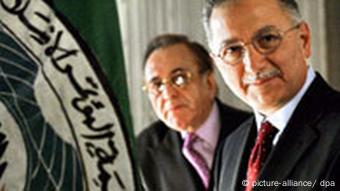 Ihsanoglu wants to attract religious conservatives
Ekmeleddin Ihsanoglu is Erdogan's main challenger. He is the shared candidate of Turkey's two largest opposition parties - the Republican People's Party (CHP) and the Nationalist Movement Party (MHP) - and until recently headed the Organization of Islamic Cooperation, a body of 56 states where Islam is either the official religion or practiced by the majority of the population. Ihsanoglu, a pious Muslim, hopes to attract conservative voters. However, he is not a well-known figure among CHP and MHP supporters.
Erdogan's other opponent, Selahattin Demirtas, has the interests of Turkish Kurds at heart. His potential share of votes is estimated at 8 percent. Current opinion polls put Erdogan in the lead: experts expect him to win over 50 percent of votes in the first election round.
To achieve his goal, Erdogan worked on maximizing his voter base. Part of his campaign was directed at Turkish citizens living abroad. This year's election is the first ever to give them the chance to vote from their country of residence - they were able to cast their votes until August 3. Germany alone is home to 1.4 million eligible Turkish voters.
Not so successful abroad
Earlier this year, Erdogan traveled through Turkey and other European countries to speak before crowds of supporters. However, the campaign aimed at Turks abroad was only moderately successful, with a voter turnout of less than 8 percent.
Erdogan remains a controversial figure. Critics fear that if he becomes head of state he will dilute democratic principles, such as separation of powers, established by Turkey's reformist statesman Mustafa Kemal Atatürk. Some also believe that Erdogan will continue to Islamize society, basing their assumptions on his past statements on how people should live their lives.
A shift away from democracy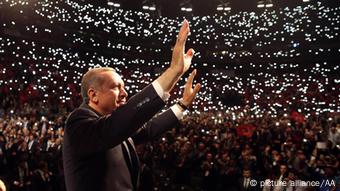 Erdogan hoped for more votes from German Turks
"We are experiencing dramatic erosion of the democratic system in Turkey," said Claudia Roth, a German Greens politician and deputy chairperson of the German-Turkish Parliamentary Friendship Group, in an interview with German radio station Deutschlandfunk. She criticized Erdogan's populist approach to politics, saying that on one hand he claims to represent all Turks, but on the other, he visibly expresses intolerance towards the country's religious minorities.
Since last year's brutal crackdown on the Gezi Park protesters by Turkish security forces, criticism of Erdogan has been more pronounced in large segments of Turkish society. The Soma mining disaster and corruption accusations against the government have only contributed to this.
Erdogan has limited the freedom of assembly and opinion in Turkey, and banned Twitter and other online platforms, attracting harsh criticism from the Turkish population and European governments. With things as they are, Turkey's prospects of joining the EU are diminishing.