Series 3: Breaking down the meat machine
Neil and Gabe try to shed light on the clandestine world of industrial meat production. Repulsed by what they discover, they look for ways out of the inexorable conflict that is our desire for cheap meat. They meet up with a mobile butcher for the "humane slaughter" of two calves, a huntress who will only eat animals killed in the wild, a vegan strongman who swears by plant protein and a vegetarian priest who is polarizing his flock. Join Neil and Gabe on a journey that has the potential to change them forever.
Episode 1: No transport, no suffering: Farmers Michael and Tina Jansen dignify the lives - and death - of their animals. That's why they've sought out mobile butcher Matthias Kürten. He takes his slaughterhouse on wheels to 300 farms each year. Neil and Gabe head to the Jansen homestead and connect with two calves about to be slaughtered. They're going to learn firsthand where meat comes from.
You can subscribe to our podcast for free here:
On the Green Fence on Apple Podcasts
Your OTGF hosts:
Gabriel Borrud was born in Beaver Dam, Wisconsin, and after hanging up his golf clubs and dashed dreams of going pro, he attended Yale University. He studied philosophy and German and following graduation, he set off for the land of "Dichter und Denker".
Gabriel joined DW in 2008 and has worked as a reporter for radio and online ever since.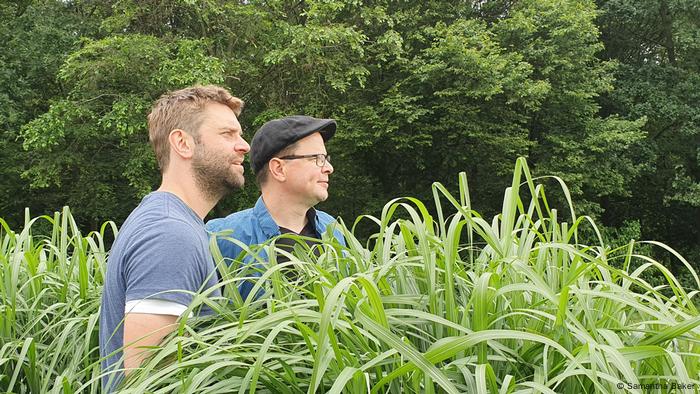 Neil King was born to British parents in southern Germany. He studied journalism and history in Heidelberg and Karlsruhe. Neil has worked as a reporter, host and editor for DW since 2007. He joined the environment section in 2019.
Neil and Gabriel have won international radio and podcast awards for their work.
More on the topic
Find our more about Neil and Gabriel and their podcast adventures on instagram, twitter and facebook.You can download or subscribe to On the Green Fence atapple podcasts, spotify or wherever you get your podcasts.
How do you like this podcast? You can contact Neil and Gabriel directly and let them know which topics they should tackle in the future. Do it old school via email onthegreenfence@dw.com or on social media.