Egypt's president, Abdel-Fattah el-Sissi, simultaneously opened a new cathedral for the Coptic Orthodox Church and a massive mosque on Sunday in the country's as-yet-unnamed new administrative capital, a major development located 45 kilometers (28 miles) east of Cairo.

Security was tight as the president inaugurated the Cathedral of the Nativity and the major Al-Fattah Al-Alim mosque on the eve of Coptic Christmas.
Read more: Religion and the media: Fostering peace
In a brief speech, el-Sissi said the opening of both the cathedral and mosque carried a message of unity.
"We are one and we will remain one," el-Sissi said, referring to Egyptian Christians and Muslims. "This is an important moment in our history."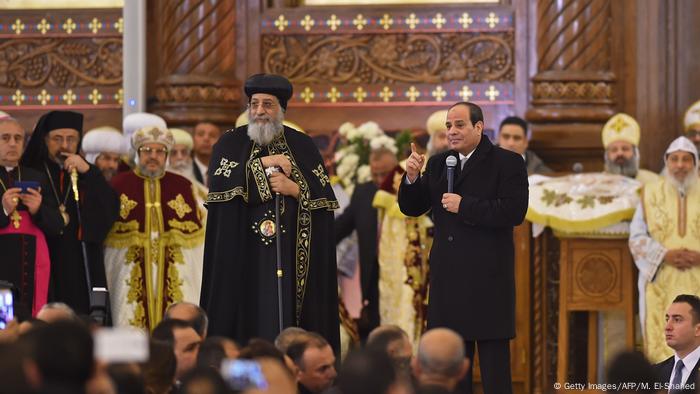 El-Sissi told those gathered that Egyptian Muslims and Christians will remain united despite sectarian violence
Egypt's top Muslim cleric, Ahmed al-Tayeb, told the congregation that "if Islamic law requires Muslims to protect mosques, it equally requires Muslims to protect churches," referring to an increasing number of attacks on Egypt's Coptic Christian community.
State television broadcast pictures of Palestinian leader Mahmoud Abbas, Arab League chief Ahmed Aboul Gheit and other foreign dignitaries and officials attending the event.
US President Donald Trump tweeted praise for the simultaneous opening of the church and mosque.
The opening comes a day after a bomb blast near a Coptic church in Cairo's Nasr City district.
El-Sissi held a moment of silence for the police officer killed trying to defuse the explosive that wounded two other police officers and a bystander.
Rise in attacks
Coptic Christians, the largest Christian minority in the Middle East, account for 10 percent of Egypt's 100 million people.
In recent years, Egypt's Coptic Christian community has been increasingly targeted by Islamist militants, including the "Islamic State," which is waging an insurgency in the north of the Sinai Peninsula.
Several hours after the inauguration, followers celebrated midnight Mass in the Cathedral of the Nativity, described by the government as the Middle East's largest church.
Coptic icons adorn the church, which can hold more than 8,000 worshippers, while the Al-Fattah Al-Alim mosque can accommodate more than double that.
It is hoped the new administrative capital, also home to government ministries and an airport, will reduce crowding in Cairo. The administration is expected to start moving to the new location later this year.
jlw/cmk (AP, Reuters, AFP, dpa)
Every day, DW's editors send out a selection of the day's hard news and quality feature journalism. Sign up for the newsletter here.