Japan's new Prime Minister Yukio Hatoyama is expected to expand on his idea of a new regional grouping at the summit in the Chinese capital this weekend with Chinese Premier Wen Jiabao and South Korean President Lee Myung-bak. Hatoyama, who assumed office in mid-September, has proposed a European Union-style East Asian Community.
Hatoyama has also indicated that he wants Japan to steer a diplomatic course more independent of the United States. The two countries have had close ties for over 50 years.
"The new prime minister and substantial parts of the governing Democratic Party of Japan think that Japan in the past has put too much emphasis on relations with the US," said Patrick Koellner, acting director of the Institute of Asian Studies at the German Institute of Global and Area Studies GIGA in Hamburg.
"It's sometimes even seen as a rather deferential relationship, paying too much attention to the wishes and needs of what is going on in Washington," he added.
The idea of greater cooperation in Asia along the lines of the European Union has circulated since the 1990s, though the US has voiced its opposition to such a community. But now, Hatoyama has brought the issue back onto the agenda, already addressing it at the UN General Assembly in New York last month in a meeting with China's President Hu Jintao.
"The new government thinks that Japan - as a core member of a fledgling Asian union - should play a role as a catalytic converter to propel East Asian integration," Koellner said.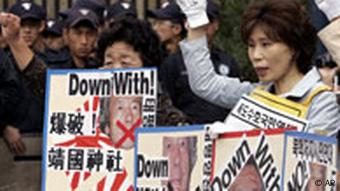 Protesters in South Korea rallied against Koizumi's visit to the Yasukuni shrine
Sarah Hyde, a lecturer in the politics of Japan at the University of Kent, said stronger ties were a very good idea.
"Relations need to be built up with South Korea and China since the very bad Koizumi years," said Hyde, author of the book "The Transformation of the Japanese Left."
Relations between Japan and China had plunged to new lows during the leadership of then-Prime Minister Junichiro Koizumi from 2001-2006. His annual visits to the controversial Yasukuni shrine for the war dead outraged Beijing and also drew criticism from Seoul. They view the Shinto shrine in Tokyo as a symbol of Japan's past militarism. Hatoyama has said he will not visit Yasukuni.
Disregarding the United States?
An improvement in relations to its Asian neighbors does not necessarily entail negative implications for Japan's alliance with the US. According to Koellner, ties with the rest of Asia and with the US can be complementary.
"There's no question that under the new government relations with the US, in particular in the security realm, but also in terms of economic ties, will remain strong," Koellner said. "There's no question of abrogating the security treaty with the US."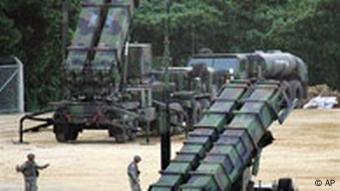 The US has a strong military presence in Japan
Japan is home to more than 50,000 US military forces and plays a decisive role in US strategy for maintaining peace and security in Northeast Asia. It is the United States' fourth-largest trading partner.
Hatoyama has a personal relationship to the US, having completed his PhD at Stanford University. Photos of him and US President Barack Obama from the UN General Assembly indicated that the two got along well.
"I think they will work well together," Hyde said, though the relationship would require constant maintenance. "And why should a good US relationship affect broader Asian ties?"
But Hatoyama's aim at closer ties to Asian countries appears to be a search for a more balanced approach to foreign relations. Earlier this week, Japanese Foreign Minister Katsuya Okada said he could imagine also opening membership to Australia, New Zealand, India and the Association of South East Asian Nations (ASEAN). However, he said that Japan's most important security alliance was with the US. And Washington, after all, doesn't invite Japan to join every one of its alliances.
"We don't intend to exclude them," Okada told reporters after giving a speech in Tokyo. "We are not members of the EU or the North American Free Trade Agreement NAFTA, but we don't feel we are being excluded from them."
Hyde said a number of Asian organizations already existed, such as the Asia-Pacific Economic Cooperation (APEC), ASEAN and ASEAN Plus Three.
"So is something new going to be developed here or will something be built upon?" she said.
China's role unclear
Should Japan, China and South Korea reach agreement on a form of cooperation, it will be challenging to decide on its leadership. Koellner pointed out that in the past decades Japan has preferred to play a role from behind the lines because of its history.
"It has put ideas on the agenda but was happy to see other countries take the lead," he said. This was the case for example in the APEC process, which Australia spearheaded.
This had now changed and Japan had become more at ease to take on a leadership role. But this could only be achieved in concert with China, he said.
"China is on the rise and we are dealing with geotectonic power shifts here," Koellner said. "Indeed, there's a bit of unease in Japan about this power shift. So while Japan would like to take the lead, it will also have to make sure that this takes place in cooperation with China, but possibly also with other middle powers in region, for example Korea."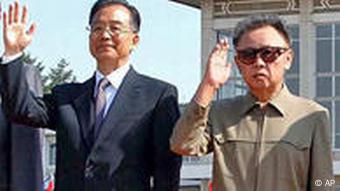 China's Premier Wen paid North Korean leader Kim Jong Il a rare visit this week
Foreign Minister Okada dismissed the notion that Japan and China could compete to take on the leading role in such a union.
"I think Japan and China must cooperate in order for the East Asian Community to be a success," Okada said.
For Hyde, the East Asian Community could look to the European Union for inspiration.
"I think something like the EU would need to be established with power rotation," Hyde said.
Building personal ties
A number of political and economic issues will be on the agenda this weekend, including climate change and North Korea. Hatoyama and Lee are expected to be greatly interested in hearing about Wen's interpretation of North Korea's nuclear arms ambitions following his rare visit to Pyongyang earlier this week.
But the meeting also serves a significant purpose on the personal level.
"I think it's also very important in terms of the three sides getting to know each other better, especially now that there's a new Japanese government," Koellner said.
Both the Chinese and the South Korean sides will be interested to see whether the new Japanese prime minister is not only good willed, but also whether he can be taken seriously, he said.
"That is whether his visions that he has presented for East Asia amount only to some lofty ideas or if there's some substance to that," Koellner said.
Author: Sabina Casagrande
Editor: Rob Mudge