Germany's international broadcaster is awarding the prize for the fifth consecutive year; the award was created to honor a person or initiative for outstanding promotion of human rights and freedom of expression. "With gratitude and hope I accept the award on behalf of all the brave journalists who are doing their job every day," Hernández said.
"Anabel Hernández investigates thoroughly and always very close to the story. She follows cases of corruption, collecting legal evidence for years. Her fight against cover-ups and impunity is an impressive example of courageous journalism," DW Director General Peter Limbourg said in Mexico City on Tuesday, February 19.
Exile as the last resort
In the 1990s, Hernández was an editor at various Mexican newspapers: Reforma, Milenio and El Universal. After the kidnapping and murder of her father in Mexico City at the end of 2000, Hernández focused her journalistic work on violations of the law and judicial scandals tolerated by the state.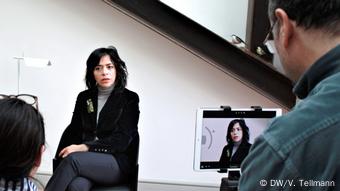 The 47-year-old gained international attention in 2010 with her bestselling book "Los Señores del Narco" ("Narcoland") which revealed close relations between the Mexican drug cartels, politicians and the country's security forces. The recipient of multiple death threats and following attacks on her personal environment, Hernández reluctantly left Mexico for the United States, where she was a fellow at the University of Berkeley for two years. She now lives in Europe in exile. There she feels relatively secure at the moment but trips to her home country remain risky.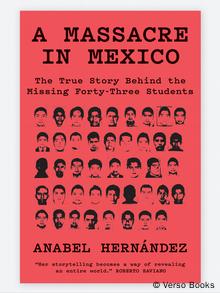 In the fall of 2018, the English version of her book "La verdadera noche de Iguala: La historia que el gobierno quiso ocultar" "(A Massacre in Mexico: The True Story Behind the Missing Forty-Three Students") was published, two years after the Spanish original. It documents the unsolved mass murder of 43 male students in the Mexican state of Guerrero in 2014. Hernández said she wanted to lend a voice to the victims and their families.
"Investigative journalism is a dangerous business in many countries, especially when it targets governments, powerful individuals or enterprises. Sometimes journalists have no other choice but to leave their country in order to protect their families and themselves," DW Director Limbourg said. "But even if they decide to stay, they often face financial ruin. They may be interesting people to interview but they are having a hard time finding a publisher who will pay them a salary. This isolation makes many journalists give up their work eventually. And truth and justice suffer as a result of their silence."
DW Freedom of Speech Award
Deutsche Welle was founded in 1953 to provide independent news and information to people worldwide and in their own languages. DW promotes democratic values, human rights and the dialogue between different cultures. Since 2015, DW has been honoring individuals and organizations with the Freedom of Speech Award. The first laureate was Saudi blogger Raif Badawi, who remains behind bars in Jeddah. In 2016, Sedat Ergin, former editor-in-chief of Turkish newspaper Hürriyet, received the award. The following year, DW honored the White House Correspondents' Association from Washington DC and in 2018, Iranian political scientist Sadegh Zibakalam.
DW Global Media Forum
The DW Freedom of Speech Award ceremony has been the annual highlight of the Global Media Forum, Deutsche Welle's international media conference. On May 27 and 28, 2019 about 2,000 experts from more than 100 countries will convene at the World Conference Center Bonn (WCCB) in Germany to discuss current media and political developments.