Dutch speed skater Jorien ter Mors smashed the Olympic record on Sunday to win the women's 1,500m gold. The Netherlands swept the top four places, tightening their grip on the speed skating competition and turning Sochi's Adler Arena a bright orange.
Ter Mors set a record mark of 1 minute 53.51 seconds and was followed 0.58 seconds later by defending champion Ireen Wust. Their compatriot Lotte van Beek (1:54.54) rounded out the Dutch podium with bronze.
"I never expected to win gold here, but I had a very good race. Technically it was good. I kept pace, I skated in a compact position, it was just about keeping skating. At the finish line I looked up and I was first," ter Mors said.
In case anyone doubted the country's speed skating prowess, the Netherland's Marrit Leenstra finished fourth. The race marked the first time a country has taken the top four places at an Olympic Winter Games since East Germany did it in 1972 with men's luge.
Norway takes super-G gold
Norway's Kjetil Jansrud clocked in at 1 minute 18.14 seconds on the 2.096-kilometer Rose Khutor course on Sunday to finish first. The 28-year-old adds to the bronze medal he won in the downhill last weekend.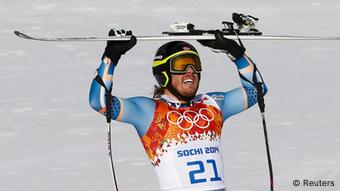 Kjetil Jansrud wins gold in super-G
American Andrew Weibrecht, a bronze medalist in the event at the Vancouver Olympics four years ago, finished second, 0.30 seconds back.
"At the start I was completely calm, but when Andrew [Weibrecht] went, I was really nervous," said Jansrud.
Canada's Jan Hudec and American Bode Miller shared the bronze medal. Both finished 0.53 seconds off the pace. It was just the fifth time two skiers shared a medal in Olympic history, and the second time it's happened at Sochi.
Miller's bronze makes him the second-most decorated Olympic skier in history with six medals, behind Norway's Kjetil Andre Aamodt's, who has eight.
"With Andrew at the start, I was like, 'There's a good chance he wins this run right now,'" Miller said. "To be on the podium, it's a really big day for me. Emotionally, I had a lot riding on it. I'm super, super happy."
Jansrud, who won silver in the super-G at the 2010 Games, is Norway's fourth consecutive gold medal winner in the event dating back to the 2002 Salt Lake Olympics.
First gold for Czech Republic
Eva Samkova's first place finish in the women's snowboard cross race earned the Czech Republic their first gold medal of the Sochi Games. The 20-year-old won every one of her runs on the Rosa Khutor Extreme Park course.
Canada's Dominique Maltais, the bronze medalist in 2006, came in second. Nineteen-year-old Chloe Trespeuch of France finished third.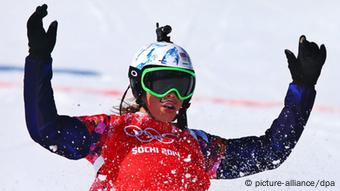 Samkova had reason to celebrate the first Czech gold
Two competitors suffered bad falls and were taken away on stretchers during the morning's opening seeding run.
Norway's Helene Loafsen, the first rider out, turned 180 degrees during a jump and landed on her back and shoulder. She appeared to be conscious but injured her knee and was stretchered away after a lengthy delay.
American Jacqueline Hernandez, who went sixth, appeared to be knocked out after she tried to land backwards but fell and smashed her head into the snow. She recovered consciousness, but was taken away on a stretcher.
The crashes come a day after Russian freestyle skier Maria Komissarova broke her back during a training run for the women's ski cross on the same course. She required six hours of spinal surgery and remained in stable but serious condition on Sunday.
'Damage control' for German hockey team
Germany's women's hockey team suffered a 2-1 loss to Finland in the loser's bracket match. Jenni Hiirikoski and Michelle Karvinen put the Finns 2-0 up in the first period. Bettina Evers pulled one back for the Germans in the second period but it remained their only goal of the game.
After managing just one win in the opening round, a victory on Sunday would've given Germany the chance to play for fifth place. The loss now puts them in a game for seventh place.
"Obviously we didn't want to end up in this situation," said forward Maritta Becker afterwards. "But we already knew that. Now it's purely and simply about damage control."
Sweden lead men's cross-country relay
After a women's gold Saturday, Sweden completed their sweep of the 4-by-10-kilometer relay a day later after their men's team finished first.
Anchorman Marcus Hellner crossed the finish line far ahead of the pack, waving a Swedish flag. Their time of 1 hour 28 minutes 42 seconds was 27.3 seconds better than the Russians, who won silver with President Vladimir Putin in attendance. France finished third, 31.9 seconds back.
Defending world champions Norway could only manage fourth. The German came in ninth.
dr,hc/jr (dpa, AP, AFP, Reuters, SID)