An appeals court ruled Friday that Dutch courts should hear a case between a group of Nigerian farmers and Royal Dutch Shell over the pollution of Nigerian lands and water that the farmers blame on criminal negligence by the corporation.
"The Dutch courts and this court consider it has jurisdiction in the case against Shell and its subsidiary in Nigeria," Judge Hans van der Klooster said at The Hague Appeals Court. Friday's ruling overturned an earlier 2013 judgment in favor of the oil giant.
The appeals court has also ordered Shell to give the farmers and environmental activists supporting their case access to documents that could shed more light on the case.
Four Nigerian farmers have alleged that Shell and its Nigerian subsidiary are liable for damages caused by leaks from two underground oil pipes. Shell has denied any liability.
Environmental groups have long accused multinational corporations like Shell of double standards in developing countries as opposed to their home countries when it comes to environmental protection.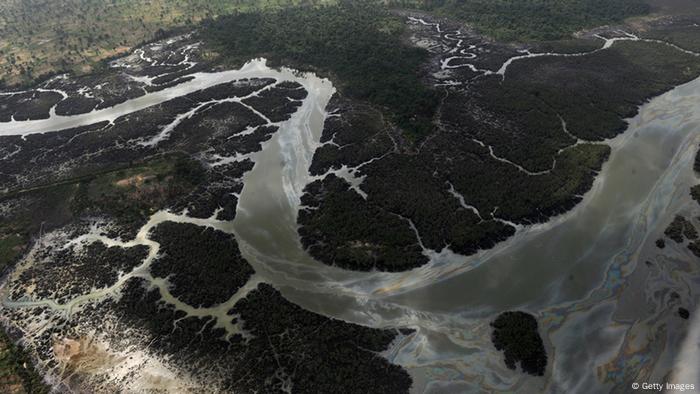 Vegetation along the Niger River Delta has been devastated as a result of spilled oil
Niger Delta's toxic legacy 50 years on
Nigeria is the world's 13th largest oil producer, pumping out more than 2.4 million barrels a day. Much of the Niger Delta remains polluted and deeply impoverished after a half-century of oil exploitation in the region.
The UN's environmental agency released a report in 2011 saying decades of oil pollution in the Ogoniland region may require the world's largest clean-up and could take up to 30 years.
After three years of litigation, Shell agreed to clean up two huge spills from 2008 that affected the fishing community of Bodo. It paid 15,000 claimants in the bulk case a total of 72 million euros ($82 million).
A report by Amnesty International recently accused Shell Nigeria of covering up its spills by hiring contactors to simply till over the earth and let spilled oil dry for a few days, then returning the still-contaminated soil to the ground.
Shell blames most spills on oil theft.
jar/sms (AP, AFP)