Uwe Tellkamp's critically acclaimed epic "Der Turm" (The Tower: Tales from a Lost Land) won the prize for best German-language novel on Monday night, Oct. 13, in a ceremony that precludes the Frankfurt Book Fair, the world's premier publishing event.
The German Book Prize recognizes novels with a broad international appeal. There is a three-step selection process in which a panel of judges select 20 titles, six of which are then short-listed.
Tellkamp's nearly 1,000-page tome is about the disintegration of former East Germany, leading to the collapse of the communist regime in 1989. The semi-autobiographical saga spans three generations of a of an elite group of Dresden intellectuals and artists living in an ivory tower high above the Baroque city that was once called the Florence of the Elbe and demolished by Allied bombs at the end of the war.
The main protagonist, who is the son of a doctor and a nurse, rebels against the system as the novel traverses East German literary circles, political institutions, schools and clinics.
Author jailed in communist East Germany
Tellkamp, 39, is a medical doctor who wrote "Der Turm" between hospital shifts. He was born in Dresden and jailed for his "political unreliability" just before the communist regime dissolved and Germany was reunified.
Afterwards, Tellkamp embarked on his medical studies in NewYork and the eastern German city of Leipzig before working as a doctor in a Dresden clinic.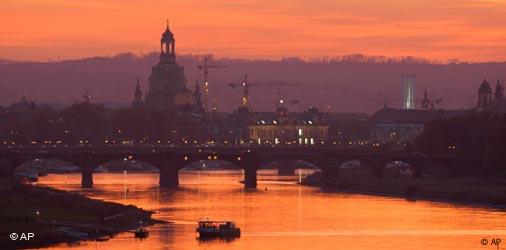 The former eastern Baroque city of Dresden is the backdrop of an epic that spans three generations
Tellkamp has published one other novel, a thriller called "Der Eisvogel" (The Kingfisher) that was hailed by literary critics but had a first run of only 163 copies. He also writes poetry and lives in Freiburg where he now writes full-time.
Book critics were full of praise for "Der Turm," but warned that the book is not light reading with its ponderous metaphors and poetic style. Some said he could one day be recognized as a "great German author."
Experiencing history through literature
Sabine Franke of the German daily Frankfurter Rundschau said that the novel "is not about uncovering facts, but about experiencing history through literature.... This is a book for insiders (former East Germans), for those who remember, who were there themselves. But at the same time, it is a book for posterity and parallel worlds, for those who come after and for whom this moment in history can only be contemplated from the outside."
The five other finalists were Dietmar Dath for "Die Abschaffung der Arten'' ("The Abolition of the Species''); Sherko Fatah for "Das dunkle Schiff'' ("The Dark Ship''); Iris Hanika for "Treffen sich zwei'' ("When Two Meet''); Rolf Lappert for "Nach Hause schwimmen'' ("Swimming Home''); and Ingo Schulze for "Adam und Evelyn'' ("Adam and Evelyn'').
Tellkamp was awarded 25,000 euros ($34,000 dollars) in prize money and the runners-up were each awarded 2,500 euros. The German Book Prize showcases young and upcoming literary talent, launching them on the international scene. Last year's winner was Julia Franck, whose novel "Die Mittagsfrau" has already been translated into several languages.