Journalists working for the Chinese state broadcaster CCTV entered a number of brothels with hidden cameras in the "sex metropolis" of Dongguan. The report, aired in mid-February, portrays and criticizes the "moral decay" of the southern Chinese city. It also slams the local police, accusing them of being "unwilling to act." The police's reaction was swift. Some 7,000 police officers conducted a massive raid in the city resulting in the arrest of 67 people.
Harsh punishment
Prostitution is illegal in China. It is, however, ubiquitous. Karaoke bars, high-end hotels and spas can be found catering to protagonists in the sex trade. While there are no official statistics, it is estimated that between four and six million sex workers are currently operating in China.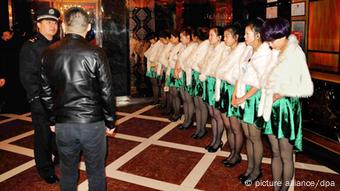 Sixty-seven people were arrested in the February raid
The sex business has a long tradition in the Asian nation. Businessmen invite potential partners to karaoke bars - with female "entertainment" - in the hopes of closing a deal. State employees also accept paid sex as a "courtesy." Last summer, five judges were caught with prostitutes in Shanghai and subsequently suspended from work. However, members of the Communist party often get off scott-free.
Yet there is high risk for the prostitutes themselves. Aside from the risk of contracting sexually transmitted diseases such as HIV/AIDS, they must also beware of the police. Prostitutes who get caught can face detention at labor camps, where, contrary to other detainees, they are expected to pay for their stay, according to the New York-based rights organization "Asia Catalyst."
Debate over prostitution
The CCTV report has sparked a debate about prostitution in China. "The state broadcaster has denounced prostitution as moral decay," criticized women's rights activist Ai Xiaoming. "But many Chinese officials are on the receiving end. And they even spend public money on it. Everyone knows that."
Prostitution, according to Ai, is less a problem of sexual morals, and more a question of the abuse of power and corruption. Chinese social media sites are abuzz with discussions about the CCTV report. "Drop your pants and take the whores, then do 'em up and take 'em in," users mock police officials, many of whom are believed to be devout customers of the prostitutes.
Many people claim the state is simply using the TV report to harangue viewers. Others suspect an inner-party power struggle behind the program as a number of local party members were suspended right after the show was broadcast.
Legalize it?
Slowly but surely, support for the legalization of prostitution is growing.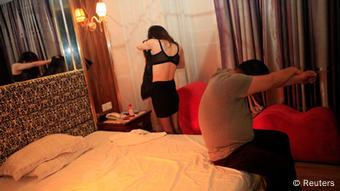 Those who pay for sex tend to go unpunished
"If it is legal to sell a product you make by using your hands or your head, then why should it be illegal to sell sex?," sex researcher Li Yinhe asks on the Chinese news site iFeng.
"While fully legalizing it could be problematic - for example, it could trigger a wave of protest, especially from people who live in areas where there is a lot of prostitution - the first step should be decriminalization," the researcher said.
Women's rights advocate Ai said China needed to find its own approach to the problem. Sweden, for example, punishes customers but not the prostitutes, but this would not be the solution for China, she said, adding that it would be best if everyone got together to find a solution, even the sex workers themselves. Raids like the one in Dongguang would then no longer be necessary, she explained.
It seems, however, the government is taking a different approach. On Monday, February 17, the Ministry of Public Security announced on its website that it would intensify its crackdown on prostitution, gambling and drugs throughout the country.