US President Donald Trump's administration wants private businesses to run the International Space Station (ISS) by 2025, but that's "unrealistic" according to the head of the European Space Agency (ESA).
"The total operation of the space station is simply too expensive," said Jan Wörner.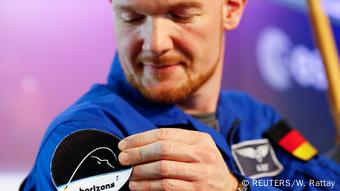 German Astronaut Alexander Gerst is training to command the ISS later this year
Trump has proposed ending US government funding for the orbiting outpost, which is jointly supported by the European, US, Japanese and Russian space agencies. Under Trump's proposed budget, Washington would pull governmental funding and instead provide a budget of $150 million (122 million euros) to encourage the involvement of private enterprise in the ISS.
Wörner noted that other countries supporting the ISS had only committed until 2024, and Trump's proposals signaled an intention for the US to use the orbiting station beyond that date. It is not clear whether Washington's involvement would be transferred to a private operator after its financial commitment ends.
Read more: Pope Francis talks eternity with ISS astronauts
Private businesses are already involved in several space projects. SpaceX CEO Elon Musk claimed his company is ahead of the rest of the space industry. Last week it launched the Falcon Heavy, said to be world's most powerful commercial rocket, whose three boosters are designed to return to separate landing pads and softly touch down in an upright position.
Potential pitfalls
Among the concerns amongst space experts about Trump's proposal are the legal liabilities an orbiting, inhabited space station could run into.
"It's a difficult issue," Wörner said, however a partly privatized space station would "not be the end of the world."
Read more: Opinion: Elon Musk and feeling like a kid again
Wörner sees a continuing demand for research in Earth orbit and predicted: "We will need experiments under conditions of weightlessness in low earth orbit beyond 2024."
The future of the ISS is up for discussion between the project's partners. The issue will be raised by its European supporters at the ESA's 2019 ministerial council.
kp/rc (AP, dpa, Reuters)