The US government has announced plans to open up nearly all the country's coast to offshore drilling, angering environmentalists and state administrations.
Under the Trump administration's proposal, over 90 percent of the US outer continental shelf would be available for oil and gas drilling, including parts of the Gulf of Mexico currently protected by a congressional moratorium.
Interior Secretary Ryan Zinke announced the five-year plan Thursday, saying development of offshore energy resources would boost jobs and economic security. He also said it would provide billions of dollars to fund conservation along US coastlines.
But conservationists and lawmakers have attacked the proposal.
Unacceptable risk
A joint statement by 64 environmental groups said, "The Trump Administration's plan to unleash the dangers of drilling offshore is a major, unacceptable risk to hundreds of local communities, their coastal economies and marine life."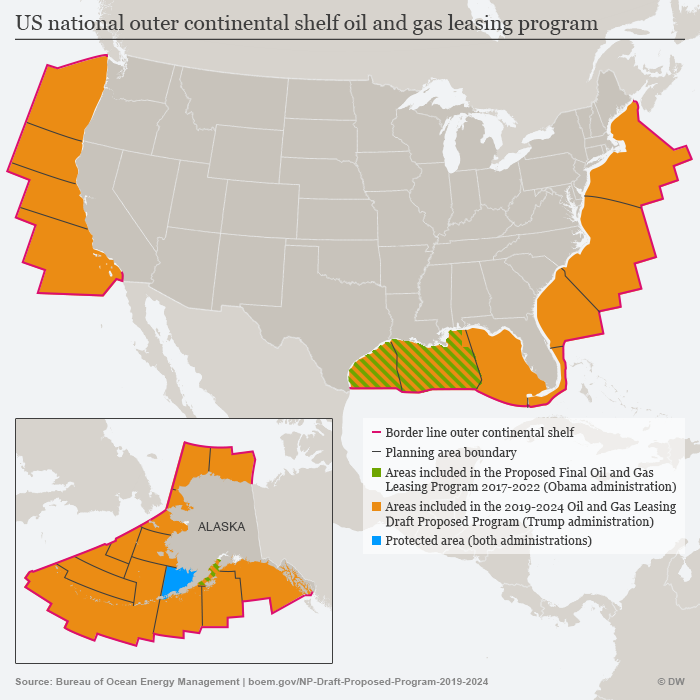 Industry groups including the American Petroleum Institute welcomed the plan, saying it would boost growth and energy security, help consumers and create thousands of new jobs.
But critics argued that far from helping the economy, the government was betting on an industry in decline.
"The reality is that oil prices are plummeting, and interest in offshore drilling is dropping along with them," the Natural Resources Defense Council said.
"Opening our fragile shores to dirty oil and gas development is a dangerous idea that puts marine life and coastal communities at risk and contributes to the present and ever-growing impacts of climate change."
Politicians from both the Democratic and Republican parties were also quick to denounce the plans.
House Democratic leader Nancy Pelosi called it "nothing more than a corporate giveaway to polluters who want to destroy our environment and our planet."
"But rest assured that we're going to fight this reckless ploy," she said in a tweet.
Coastal states resist
In a joint statement, three of the coastal states affected by the plan — Washington, Oregon and California — said they would "do whatever it takes to stop this reckless, short-sighted action."
They accused the Trump administration of choosing "to forget the utter devastation of past offshore oil spills" and ignore the science of climate change.
Florida Governor Rick Scott, a Republican, said he had requested a meeting with Zinke to discuss his concerns over the proposal, and "the crucial need to remove Florida from consideration."
"My top priority is to ensure that Florida's natural resources are protected," Scott said.
Oil spills — including Santa Barbara in 1969 and Deepwater Horizon in 2010 — have historically galvanized the US environmental movement, and environmentalists said the proposal would be unacceptable to the general public.
"Millions of Americans have raised their voices to send a message, loud and clear, that they do not want offshore drilling off our coasts," Michael Brune, executive director of the Sierra Club, said in a statement accusing Trump and Zinke of listening instead to "the industry that's bankrolled their campaigns and filled their administration."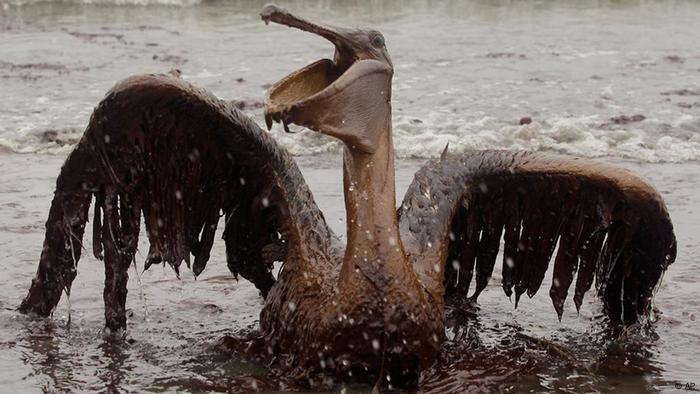 Previous oil spills' impact on wildlife and coastal communities make offshore drilling highly controversial
Unattractive to oil companies?
The five-year plan is a draft proposal to replace a previous plan put in place by the Obama administration to cover the period from 2017 to 2022.
If approved, 47 leases would become available in the Gulf of Mexico, the Atlantic Ocean, the Pacific Ocean and the Arctic, starting in 2019. The Californian coastline would be open for drilling for the first time since 1984.
But experts have pointed out that opposition from coastal states could make the leases unattractive to oil companies. States have control over waters within 3 miles (5 kilometers) of their shores, and could prevent pipelines being built to bring the fossil fuels ashore, forcing companies to use ships instead.
"At today's crude oil prices, the way companies look at political risk ... when you do the math on paper it doesn't add up," Kevin Book, an analyst at ClearView Energy Partners in Washington, DC, told AP.