In a rare about-face, US President Donald Trump has carried out an abrupt policy U-turn on the importation of big-game animal parts from Zimbabwe after a storm of public outrage.
The reversal came late Friday, just one day after the US Fish and Wildlife Service announced it was lifting the ban imposed by former President Barack Obama in late 2014.
Animal rights advocates, environmentalists and, crucially, even some Republicans had urged Trump to reverse course.
'Wrong move'
The Republican chairman of the House Foreign Affairs Committee, Ed Royce, called the administration's original plan the "wrong move at the wrong time."
In addition to noting the continuing population decline among elephants, Royce cited widespread corruption at the highest levels of government in Zimbabwe and the current political turmoil in the country following an apparent military coup earlier in the week.
"In this moment of turmoil, I have zero confidence that the regime — which for years has promoted corruption at the highest levels — is properly managing and regulating conservation programs," Royce said. "Furthermore, I am not convinced that elephant populations in the area warrant overconcentration measures."
Read more: Poachers not deterred by protected areas
Trump tweeted late Friday that he was reversing course for the time being.
Still issuing permits?
Obama imposed the ban to help save elephant and lion populations in Zimbabwe and Zambia. Elephant populations, in particular, have been devastated across Africa over the past century. Where 5 million of the giant pachyderms once roamed African savannahs, there are now just 400,000.
Conservation efforts in recent decades have failed to stem the steady decline of the African elephant, which endured a 20 percent decline in just nine years — from 2006–2015. Elephant ivory remains a coveted commodity in China and across Asia, where it is used for ornamental carvings.
Read more: Poaching costs Africa millions of dollars
The Arizona-based Center for Biological Diversity, which advocates for animal rights, applauded the decision to reimpose the ban, but said more needed to be done.
"It's great that public outrage has forced Trump to reconsider this despicable decision, but it takes more than a tweet to stop trophy hunters from slaughtering elephants and lions," said Tanya Sanerib, a senior attorney with the center. "We need immediate federal action to reverse these policies and protect these amazing animals."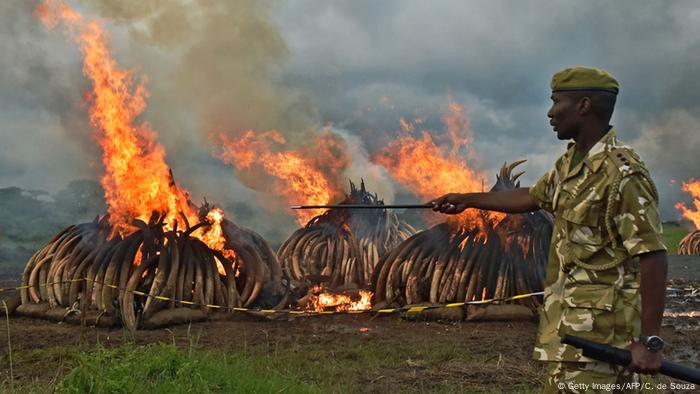 Kenya carried out a mass burning of ivory in 2016 as part of a bid to stop "murderous" trafficking
'Shameful actions'
Public outrage against the administration's original decision to overturn the Obama ban was not limited to the US.
French animal rights activist Brigitte Bardot was just one voice from abroad to slam the decision, writing in a letter to Trump: "No despot in the world can take responsibility for killing off an age-old species that is part of the world heritage of humanity."
She added, "Your shameful actions confirm the rumors that you are unfit for office."
Despite the outcry and Trump's stated reversal, the international affairs page of the US Fish and Wildlife Service still — as of Saturday morning local time — says it will issue permits for importing big game animal parts.
Read more: To burn or sell ivory
Read more: Ivory trade still fuels poaching
bik/tj (AP, Reuters, AFP, dpa)