Sometimes, all it takes is one goal to put a player in the spotlight. This was certainly the case for Divock Origi, when his 88th-minute finish against Russia in Belgium's second group-stage game at the 2014 World Cup secured their passage through to the knockout stage.
"It was a crazy, crazy time. It was our first World Cup in so long, and after my goal and the game, everyone was celebrating," he told DW. "We met the King, I took a selfie with him… and then I heard that there had been a dolphin named after me! I was in my hotel room, seeing all of this happen. It was amazing!"
Footballing lineage
He was just 19 at the time, but he always seemed destined to make a career out of the beautiful game. Born in Belgium in April 1995, he is the son of former Kenyan international Mike Origi, who still holds the record for the most appearances for the African side. Unsurprisingly, his father had a big impact on him as a child.
"From when I was small, I saw my father playing as a professional in big stadiums. I saw him win the Belgian League in 1999, and I remember the way they were received as heroes in the city. I grew up wanting to be like him, and seeing how hard he worked, I saw how much effort you need to put in to reach the top, and that was special for me."
Origi joined Genk at the age of 11, following in his father footsteps, but his talent meant that he was soon coveted by many of Europe's top clubs. In the end, he decided to make the short trip to Lille, where he played until he was snapped up by English giants Liverpool after the 2014 World Cup. While he did show flashes of his talent in Merseyside, he struggled to nail down a starting spot. Wolfsburg saw his potential, however, and took him on loan for the 2017-18 season. Origi recognized the opportunity he was being given.
"For me, it's a big chance. I'm humbled by the fact that I am here at such a young age and that I am being counted on. I'm also getting a lot of experience. I'm hugely motivated, and I just want to improve and show to myself and to the world that I can do this."
Rookie of the month
He has impressed at Wolfsburg so far. He was voted the Bundesliga's rookie of the month for November, and his raw talent has been on full display.
"I feel good here. Everyone has been so welcoming and I love the vibe of the club. Everyone is really close and everyone knows each other. It's also a young group of players: We laugh and joke a lot. I try to speak German, and they try to speak English, and sometimes it can be a bit difficult to communicate, but it's cool."
Making his case for Russia 2018
It's a good thing that he has adapted quickly to life in the Bundesliga, as the next two or three months could decide whether or not he will be part of Belgium's World Cup squad. He believes that this could be the year of the "Red Devils."
"We have a big chance (to win the World Cup). We have such a talented group, with players like (Eden) Hazard, (Thibault) Courtois, (Kevin) De Bruyne and (Moussa) Dembele. All over the pitch we have top players. We also have top staff, as you can see with Thierry (Henry) and (Roberto) Martinez. We also have more experience now, being four years older. We have everything. But of course, in football, you have to show it on the pitch. Hopefully we will see that."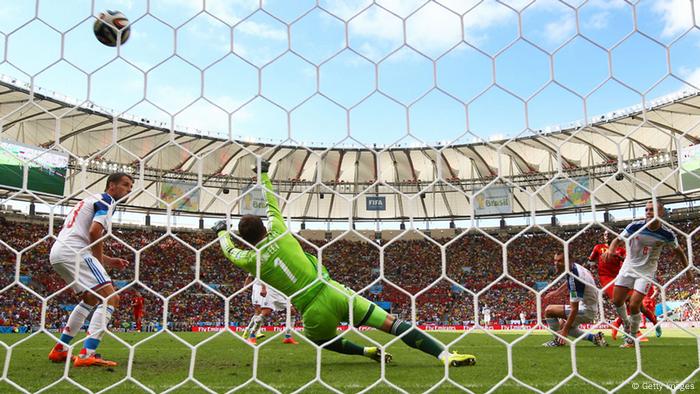 Divock Origi's goal against Russia in Brazil in 2014 put Belgium through to the knockout stage
Learning from a master
Indeed, there is a lot of talent and experience in the Belgian camp and none more so than Henry. Origi says the former Arsenal and France striker has helped him immensely.
"Thierry is someone I used to watch as a kid on YouTube. When he joined the national team, I was in awe, but the more you get to know him, the more you realize he is just a normal guy. As a striker who used to operate from the wings, he is someone I can relate to. Sometimes, I call him and he gives me a lot of advice."
Lofty goals
Such an influence can only be a positive going forward for the young Belgian. At the age of just 22, he still has a lot of time to improve his game, and Origi is aiming to achieve a lot in the sport.
"In three to five years, I see myself at the top level. That is something I dream of, as well as winning trophies. I don't know where that is going to be, but if I work hard, that is definitely something I can reach."
It looks like Origi should have some exciting times ahead of him. For now though, his job is to score a few more goals in the Bundesliga to help Wolfsburg in their battle against relegation. Do that, and there's every reason to believe that he will get another chance to shine on a bigger stage, at this summer's World Cup in Russia.