Even under ordinary circumstances, it can be challenging to get diplomats and officials to openly speak their mind about the occupant of the White House and shaper of American foreign policy.
But the US president is a man who has called the United Nations "a club for people to get together, talk and have a good time" and demanded drastic cuts to Washington's contribution to the organization's budget. In the era of Donald Trump, these are no ordinary circumstances.
That's why it was little surprise that of the half-dozen officials from various UN member countries who were approached for this article in New York, none was prepared to talk on the record about the expectations for Trump's maiden speech at the General Assembly on Tuesday.
Read more: Seven anecdotes from UN General Assembly debates
But even without attribution, diplomats from around the world remained guarded and hesitant to expound on what they think he will say in his first address to the organization.
General reluctance
To be fair, what can be described as a general reluctance to preview Trump's visit is understandable to a certain degree since the president is widely seen as unpredictable — particularly when it comes to last minute changes to the content of the speeches he gives.
The key sentiment shared by officials from North America, Europe, Africa and Asia was relief that Trump was actually coming to the UN and taking part in the General Assembly.
This may seem a low bar to set, but against the backdrop of Trump's anti-UN rhetoric and his espoused policy of "America First," his visit to the world's most visible multilateral organization could indeed be interpreted as an albeit small, but important step.
"It is good that he is engaging," said one official. "It is better than disengaging."
Read more: 100 days of US President Donald Trump: What you need to know
Another hint that things may not be as bleak between Trump and the UN as thought is evidenced by the fact that US president is visiting the UN not just for his maiden speech. On Monday, seated alongside Secretary-General Antonio Guterres, Trump also presented (with other countries such as Germany and Britain) a proposal for the reform of the organization.
Still, his first appearance was in keeping with the president's history as a businessman: he urged the 193-nation organization to reduce bureaucracy, more clearly define its mission around the world and become "a more effective force" for peace globally.
This can again be viewed as a signal in two ways. First, that Trump, notwithstanding his isolationist rhetoric, sees a role for a reformed UN. And second, that he sees the US as continuing to playing a key role in international affairs that goes beyond very narrowly defined national interests.
Dealing with the UN
That does not mean, though, that Trump will not criticize the UN in his appearances in New York. He almost surely will. But it could mean that this president — who considers himself the world's greatest dealmaker — may be ready to "do deals" with the UN and its member countries and that Washington's cuts to its UN contributions won't be as crippling as widely feared.
While the diplomats working in the Turtle Bay neighborhood in midtown Manhattan where the UN resides remained tight-lipped about President Trump's upcoming appearance here, other locals aren't.
'I love my president'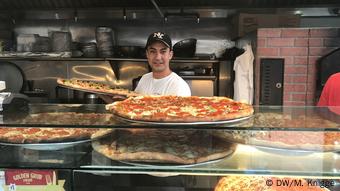 Hakim: 'I love my country, I love my president'
"We are so happy and proud that he will be coming to this area," said John Hakim, who runs La Trattoria, a small brick-oven pizzeria, one block from the UN headquarters, when approached about what he thinks of Trump's visit.
The 32-year-old Coptic Christian from Egypt came to the US seven years ago and opened his pizzeria in July – just in time for what promises to be brisk business once the UN General Assembly kicks off.
"We will do our best to serve everyone and we hope we can do a good job," Hakim said.
When asked about his political views, the new restaurant owner displayed some diplomatic talent as well as some business acumen.
"I don't care about politics. I am a US citizen. I love my country. I love my president," Hakim said, adding that if Trump were to come to his restaurant he would suggest he either try the penne with chicken or the fettuccine with shrimp.