German police are investigating charges against rail operator Deutsche Bahn after 44 passengers needed medical attention after travelling on a high-speed train with a broken air conditioning system on the weekend.
Near-panic broke out on board the ICE train from Berlin to Cologne on Saturday when several high-school students returning from a school trip collapsed and lay unconscious and dehydrated in the aisle. The train was eventually stopped in the central German town of Bielefeld.
"People were already collapsing in the train, and four of our students hyperventilated when they stepped out onto the platform," said distressed teacher Dagmar Reichenberg-Arnoldy, as emergency doctors attended to her class on the platform.
Three trains were affected, nine students and elderly passengers ended up in hospital and a pregnant woman tried to smash a window with an emergency hammer in desperation. With outside temperatures of up to 38 degrees Celsius, a broken air-conditioning system and sealed windows, temperatures within reportedly reached up to 50 degrees.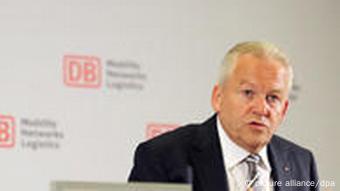 Ruediger Grube promised compensation
Damage control
Deutsche Bahn's public relations department quickly attempted some damage control, with boss Ruediger Grube promising compensation. Spokesman Juergen Kornmann appealed for the public to put Saturday's events in perspective.
"We operate 1,400 inter-city connections every day, and yesterday we had problems - big problems I admit - on three of the trains," he said. "So one can see the vast majority of travelers arrive safely and comfortably."
But these justifications have not prevented Saturday's events from catching the attention of the police, who announced that they have begun investigations into Deutsche Bahn on suspicion of causing bodily harm by negligence. A police spokeswoman said the problem with the air-conditioning had been known well before the train was stopped in Bielefeld.
Endemic problems?
Meanwhile, passengers on other trains have since come forward to report problems on other trains. Oliver Rasche, who was travelling on a stretch from Bochum to Berlin on Saturday, complained about the way Deutsche Bahn handled the situation.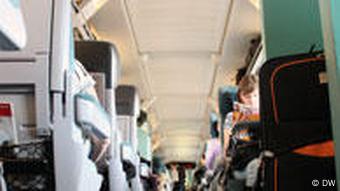 The temperature inside the train was estimated at 50 degrees Celsius
"There was no official reaction or official announcement at all that the train was damaged or that the air-conditioning was not working," he said. "You just realized it was getting hotter and hotter."
Dirty filters, causing the air-conditioning to overheat and shut itself down, have been blamed for the problems, and Karl-Peter Naumann of public transport passenger organization Pro Bahn believes cost-cutting schemes in Deutsche Bahn's maintenance department have caused endemic problems.
"I think that parts relevant to safety - the wheels and the axles - are being cared for very thoroughly, but I'm afraid that means the air-conditioning system is neglected," he told German broadcaster NTV.
If Saturday's dramatic events are traced to a lack of maintenance in on-board systems, Deutsche Bahn could face serious legal trouble.
Author: Ben Knight
Editor: Martin Kuebler