Peter Bofinger, one of Germany's economic "wise men," says it's time for a hefty increase in German wage levels.
"We need stronger wage increases of at least 3 percent," he told the Monday edition of the Rheinische Post newspaper.
Bofinger said that a cautionary approach to wage hikes in recent years has led to a gap in the national economies of the eurozone. His remedy? Higher wage increases in Germany and lower increases in the less competitive economies of Southern Europe. In his view, German businesses can afford larger increases, which he predicts would stimulate consumer spending, thus helping the economic recovery.
"There's no justification for the extreme slowdown in wage development in recent years," Bofinger said.
In 2008, German salaries still registered an average rate of increase of 3 percent. But since then, that rate has slowed sharply.
Caution still needed, says Hundt
However, the current situation suits Dieter Hundt, president of the German Employers' Association (BDA), just fine. Despite the fact that the German economy is undergoing a modest recovery, Hundt doesn't see any reason to increase wages.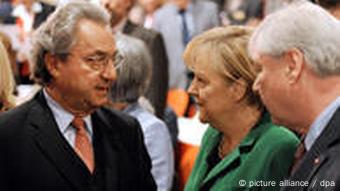 Dieter Hundt, left, believes it's not party time yet
"We mustn't burden or threaten the current economic recovery in any way," Hundt said on Sunday in an interview with broadcaster Deutschlandfunk. He added that workers are already benefitting from the fact that schemes involving reduced working hours, which were introduced at the height of the crisis, are now being phased out.
Hundt said Germany's moderate wage increase policy had helped companies emerge from the financial crisis relatively unscathed. He is anticipating economic growth of 2 percent this year, as well as a decrease in unemployment to below the 3 million mark.
But Hundt also pointed out that exports are largely responsible for these positive developments: Germany's domestic recovery, on the other hand, is still sluggish.
"It's not party time yet," he said.
Wage hike inevitable, researchers say
Also weighing in on the debate, Horst Seehofer, head of the CDU's Bavarian sister party, the CSU, said he can understand German workers' demands for a substantial pay increase. German trade unions showed remarkable restraint and responsibility during the crisis, so it's only to be expected that workers now want a tangible reward, Seehofer told public broadcaster ARD.
Some labor market experts predict that, after years of stagnation, Germans are headed for an era of larger wage hikes. The Kiel Economic Research Institute foresees a net wage increase of over 4 percent in 2013 and 2014 - a development driven also by Germany's labor shortage.
This was confirmed by the IZA research institute on labor trends. "The average worker is going to see a marked improvement in negotiating power," IZA Director Hilmar Schneider told the Welt am Sonntag newspaper.
Author: Deanne Corbett (Reuters, dpa)
Editor: Sam Edmonds