"Yeah, we're going back to Germany!" exclaimed eight-year-old Adnan gleefully. But the happy mood doesn't last long. The smile on his face froze as he realized that it wasn't a German government official but rather a journalist from Germany who had knocked at his door.
Adnan, along with his 12-year-old brother Senjur and mother Vesvije, were deported from Germany back to Kosovo about a month ago. Vesvije, a 45-year-old mother, described how the police showed up at their house at 5 a.m., while she was sleeping due to the medications she has to take. "There were a lot of people: immigration officers, police, a doctor. And they said, 'Pack your things, you're going to Kosovo.' They were immediately taken to Kosovo, to the newly rebuilt "Roma Mahala" in Mitrovica, northern Kosovo.
Cloak-and-dagger operation
That morning, 16-year-old son Halit was spending the night at a friend's house after a soccer game. Since the minor couldn't be left alone, father Zeki was allowed to stay in Germany to care for him.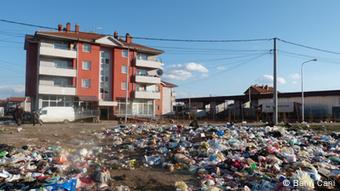 Apartment buildings were built for returnees
It's the second time the Roma family has been torn apart - last year, the three oldest sons of the Osmani family were deported to Kosovo. Now, Vesvije lives with her five sons in a two-room apartment, where all six sleep on the floor.
Their new apartment in Mitrovica's Roma Mahala is only a stone's throw from the Osmani's former residence. Where the family home once stood, now only a few rocks are left. "We have nothing in Kosovo," Vasvije said.
For 16 years, the Osmani family lived in Germany. The three youngest children were born there, where they also attended school. They only speak German, and a bit of Roma.
Around 1,900 Roma, along with members of the related Ashkali and "Balkan Egyptian" ethnic groups - both Albanian-speaking minorities - live in the Roma Mahala. There, German is often heard in the streets, as many people there were deported from Germany.
About 2,500 Kosovars have been returned since a bilateral treaty between Germany and Kosovo was signed in 2010. Most of these did not leave voluntarily.
Roma Malhala rebuilt
Roma Mahala was newly built over the last four years, after having been destroyed when ethnic tensions broke out in the region in 1999. At that time, Roma who fled were settled in notoriously squalid refugee camps north of Mitrovica.
While the municipality put up land, the European Commission and USAID provided 5 million euros to rebuild the neighborhood for resettlement of the Roma, Ashkali and Balkan Egyptians. It's said to be the most modern Roma settlement in the entire Balkan region.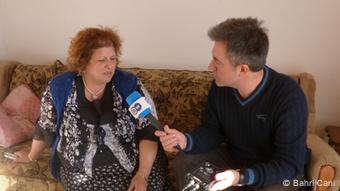 Our reporter Bahri Cani speaking with Vesvije in Mitrovica
Avni Kastrati, mayor of South Mitrovica, said proudly, "They have very good conditions here. Everyone received a new house or apartment, and live much better than they did before." In addition to the housing structures, the neighborhood has its own clinic and various shops.
The refugee camps, which held from 7,000 to 8,000 Roma, have since been closed. Although there aren't any exact figures, Ahmet Jashari, press spokesman for the Mitrovica provincial government, said that according to the Roma themselves, many from the camps went to Germany, Serbia, Montenegro, Macedonia and other areas in Kosovo.
New start
Although they might have a roof over their heads, education and training for Roma continues to be an issue. The greatest difficulty, Jashari said, is an estimated unemployment of around 90 percent among Roma. People returning from foreign countries need homes and work, he added.
"They need a new start. We try to solve this problem, but there are very few opportunities," Mayor Kastrati said.
Unemployment overall in Mitrovica and Kosovo is around 50 percent. The city and district of Mitrovica offer financial support of 2,000 to 3,000 euros for Roma who seek to start small businesses. But that's not enough to solve the unemployment problem, Kastrati said.
From Pristina, the Kosovo government is also attempting to help resettled Roma. There's a special program to prepare children for school. In Roma Mahala, older boys and girls go to school in the northern part of the separated city, where they take their lessons in Serbian. Younger children go to school in the southern part of Mitrovica, where they learn in Albanian.
Schooling a problem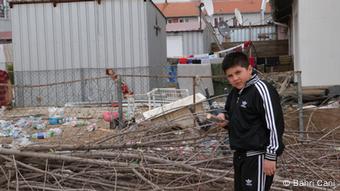 8-year-old Adnan would rather be in Germany
But Roma haven't been handled this way everywhere. Kosovo Education Minister Rame Buja described how in the districts of Gjakova, Fushe Kosova and Ferizaj, there was an attempt to split Roma children from other school children and teach them separately.
"That's a step toward a type of segregation, but we didn't allow this," Buja said, adding that the attempt came from both Roma and Albanians.
Roma children deported from Germany back to Kosovo, however, speak neither Albanian nor Serbian. Likewise, the children in the Osmani family, who besides German, speak no other language well. That's apparently the reason none of them attends school.
Vasvije said of their return to Kosovo, "For us there is no future, no life." The family hopes to go back to Germany.
Eight-year-old Adnan described a return to Germany as his greatest dream. "The children here are poor," Adnan observed. "When I see them, I feel sorry for them. They run around barefoot, have nothing at all, and are dirty," he added. He said he would love to attend school - in Germany.