Hans Filbinger, 90, was forced to resign as premier of the southern state of Baden-Württemberg in 1978 after it emerged that as a naval judge he shared responsibility for
handing down death sentences in the waning months of Nazi Germany.
Filbinger's opponents are criticizing that until today he's kept defending his activities then. "What was the law then cannot be unlawful today," is how Filbinger has justified his position.
The right-wing politician's nomination by Christian Democrats to participate in Sunday's so-called federal assembly, which is comprised of members of parliament as well as an equal number of representatives from Germany's 16 states, has provoked outcry from members of Germany's governing coalition, intellectuals and Jewish leaders.
Describing Filbinger's nomination as tasteless, Klaus Uwe Benneter, the Social Democratic Party's secretary general, said conservatives were once again failing to swiftly deal with a touchy issue similar to the case of a far right-wing CDU parliamentarian who had called Jewish people a "race of perpertrators" and was eventually excluded from his party's parliamentary group late last year.
Paul Spiegel, chairman of the Central Council of Jews in Germany, who is also a CDU-nominated member of the federal assembly, said he didn't understand why Filbinger had been chosen in the first place.
"There must be more deserving people without such a past," Spiegel told Berlin tabloid B.Z.
Officials for the Los Angeles-based Simon Wiesenthal Center also voiced their concerns. "Filbinger's participation in the presidential election would send the wrong signal at the wrong time and would be a stain on Germany's democratic record," they said in a statement on their Web site, urging people to write to Christian Democratic leader Angela Merkel to call for Filbinger's removal.
Criticism politically motivated?
Christian Democrats have countered that criticism of Filbinger's nomination is politically motivated. They say that Filbinger already was a member of several federal assemblies as former state premiers are traditionally invited to participate. They add that his nomination was approved twice after his past came to light by all members of Baden-Württemberg's state parliament, which also included Social Democrats and Greens.
Election procedures also prevent the CDU from retracting the nomination -- only Filbinger himself could decide to stay away.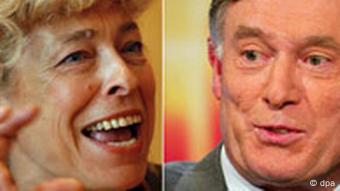 Germany's presidential candidates: Gesine Schwan, left, and Horst Köhler
Together with the neo-liberal Free Democrats, the CDU holds a majority in the federal assembly, making it highly likely that the conservative presidential candidate, former IMF director Horst Köhler, will be chosen as Germany's next president on Sunday. Köhler himself has also been nominated by Baden-Württemberg's CDU as a member of the federal assembly.
Saying that Germany needs a first female head of state, Social Democrats and Greens have nominated Gesine Schwan, the president of Viadrina European University in Frankfurt (Oder) near the Polish border.