"Jogi's experiment fails." That's how the daily Bild newspaper summed up Germany coach Joachim Löw's decision to field a team with a back three in Friday's friendly against Ukraine, which saw the national team concede three goals in the first half.
But in the modern game of football, with its increasingly individualistic players, how crucial is a formation or a set of instructions about positioning? A converse example to Löw and Germany is Bayern under Jupp Heynckes.
Several Bayern players, including Franck Ribery, have put Munich's current dominance down to Heynckes freeing the team from the tactical straightjacket imposed by his predecessor Louis van Gaal. German news magazine Der Spiegel even went as far as to call Heynckes the "anti-van Gaal."
So is Heynckes' secret a lack of strategy? DW asked the experts at www.spielverlagerung.de, one of the few websites in the world devoted entirely to tactical analyses of football matches.
"Heynckes' willingness to give players more freedom is a tactic," one of the website's founders, Tobias Escher, explained. "Bayern's creative midfielders are now much more prone to changing sides. You'll often find Thomas Müller on the left, while Ribery makes far more forays in the middle."
That seems a plausible explanation. One of Bayern's main flaws last season was their predictability. Teams knew that if they could contain Ribery and Arjen Robben, they stood a decent chance of taking points off the Bavarian giants.
This year, Bayern have been hitting the opposition from all angles and are threatening to break every record in the book.
Formation variations
One thing that Munich has retained from the van Gaal era is the basic formation. One of the cantankerous Dutchman's achievements was dragging Bayern into the 21st century and getting the team to play a 4-3-3.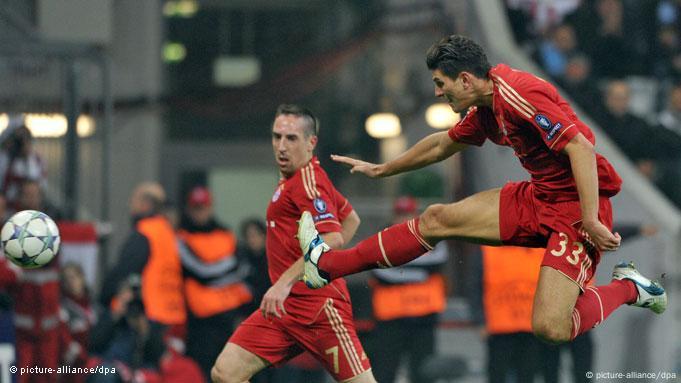 The rule these days is a lone central forward supported by players on the wings
The system, together with the more defensive 4-2-3-1, has become standard in the Bundesliga, with the vast majority of teams these days fielding a lone central forward.
So has that reduced the tactical diversity within German football?
"The formation alone doesn't tell you much about tactics," said Escher. "Every formation has an interpretation. For instance, the three offensive midfielders at Mönchengladbach and Stuttgart tend to stay close together and clog the middle of the pitch. They played out far wider at Munich a year ago."
The quality of Bayern's squad means they can afford to play with two true wingers. And that fact underscores that there's no one set of tactics suited to all players.
The style fits the team
One of the most intriguing matches of recent weeks was Gladbach versus Hertha Berlin in round 12.
The Foals were led by Lucien Favre, the man who took Hertha to their best league finish in the new millennium and saved Gladbach from near-certain relegation last season. The Swiss coach is regarded as something of a footballing Einstein - in contrast to his counterpart in the German capital.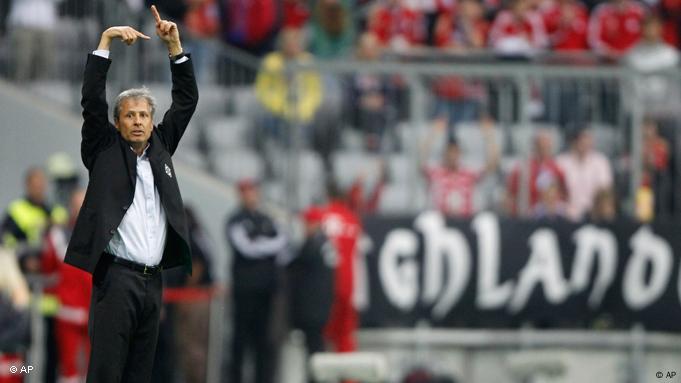 Gladbach's Lucien Favre has the nickname "Super Brain"
Former Bayern and Liverpool star Markus Babbel is known as an old-school manager who stresses traditional virtues and ephemeral qualities such as a "winning mentality." In a comparison of the two men, the Berlin newspaper B.Z. gave Favre a 1, the highest mark, while Babbel was only deemed worthy of a 3.
Favre's Foals beat Babbel's Berliners 2-1. But afterward, most observers agreed that red-hot youngster Marco Reus, and not tactics, had tipped the balance.
"Hertha were aggressive and played a pressing game. They were better in winning challenges," Favre told reporters after the match.
Babbel has taken some criticism for Berlin's preference for counter-attacking over prying apart opponents. But at least part of that tendency is intentional, aimed at protecting the team's veteran and relatively slow back four.
"Part of tactics is to get the optimal performance out of the squad you have," Escher explained. "Babbel doesn't have fast players at the back. You can't play Louis van Gaal football with players who got relegated [two seasons ago]."
A coach, then, can only be as good as his team. But does that formula also work in reverse?
Not so subtle differences

Germany captain Philipp Lahm shocked the German football world earlier this year when he described his former coach at Bayern, Jürgen Klinsmann, as being disinterested in strategy.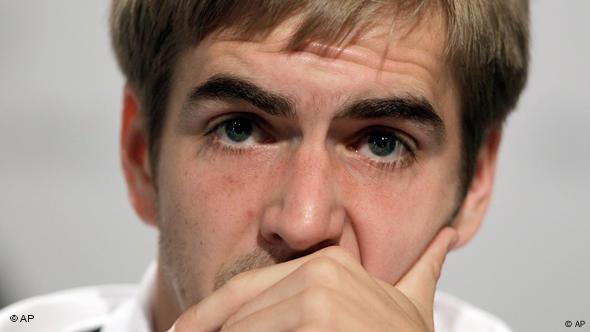 Lahm says he was baffled by some of his coaches' approach
"Under Klinsmann, practice was almost all about fitness," Lahm wrote in his book "Der feine Unterschied" (The Subtle Difference). "Tactical issues were given short shrift. We players had to get together on our own before matches to discuss how we wanted to play."
Lahm's candor, for which he subsequently had to apologize publicly, astonished many. Could it be that a coach working at the top level could be so innocent of Xs and Os?
"It's a difficult question, but I'd say there are fewer and fewer coaches who have no use for tactics, especially since scouting plays a larger and larger role," said Escher. "Perhaps you could say that about Michael Oenning at Hamburg this season."
Hamburg - one of the Bundesliga's perennial heavyweights - got off to a horrid start top 2011-12. They suffered a couple of lopsided losses and often looked incapable of stringing more than two passes together in midfield.
The fact that the team has since found some stability suggests Oenning, who was fired on September 19, bore some of the blame. On the other hand, team management didn't do him any favors by releasing a number of veterans and handing him a squad of young players with little to no Bundesliga experience.
The ultimate lesson may be that tactics are a part of the whole and can only work in conjunction with personnel and motivation. Bundesliga coaches may often be put into two camps: master strategists, who allegedly plan every move, versus man-managers, who let the players got on with it.
But there's no shortage of examples suggesting there's a lot more to the story than that.
Author: Jefferson Chase
Editor: Martin Kuebler