Torrential rains struck northern Italy and southern France over the weekend, killing at least five people and bringing a new wave of flooding to Venice. The bodies of two more people, believed to be tourists, were recovered late Sunday and early Monday near the Greek port of Antirio, and another two women died when the storm reached the east of the country later on Monday, according to state ERT television.
A 30-meter (100-foot) section of highway caved in near a viaduct close to the flooded Italian coastal city of Savona, leaving cars stranded on the precipice of the remaining stretch of road. Emergency services and sniffer dogs were deployed to find potential victims but, as yet, none had been found.
On Monday, some roads were still closed on the French Riviera and rivers were still rising in Italy after a week of flooding.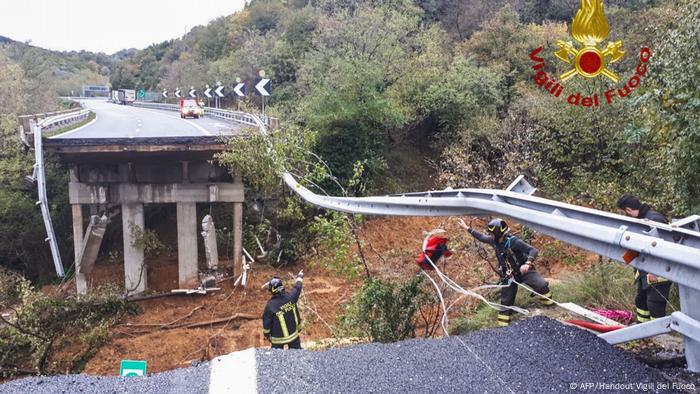 A section of highway caved in near the flooded Italian coastal city of Savona
Read more: Could Venice lose its World Heritage status?
In the northern Italian region of Piedmont on Sunday, a 52-year-old woman, who had been missing since her vehicle was swept away by a river, was found dead. Italian media stated that two other people in the car had managed to escape in time.
Evacuations in Italy, 2 dead in France
In Alessandria, located between Turin and Milan, 200 citizens were evacuated.
Around 500 citizens were also evacuated in the Aosta Valley, where roads were closed because of a fear of potential avalanches.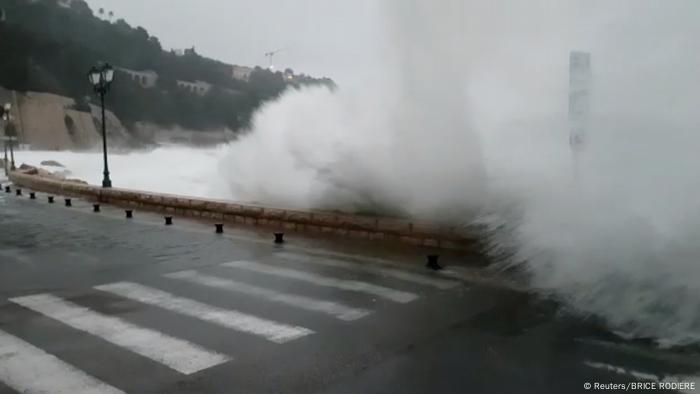 Waves crashed against the barrier and onto the street in Villefranche-Sur-Mer, France
Venice once more suffered floods, though the levels were lower than those experienced earlier this month, when the Italian city suffered record-breaking water levels.
In France, two people were killed and one was missing after floodwaters swamped cars and turned roads into rivers. Thousands of households have been left without electricity. The storm also reached Greece late on Sunday, causing mudslides and flooding hundreds of homes. Dozens of people were rescued by firefighters after being trapped in cars and flooded houses.
dj, jsi/ng (AFP, AP)
Each evening at 1830 UTC, DW's editors send out a selection of the day's hard news and quality feature journalism. You can sign up to receive it directly here.