Violent storms have moved through Europe causing dozens of casualties and leaving millions of people without electricity.
At least six German victims have been identified, two of which - a 74-year-old man in south-western Germany and a 70-year-old woman in western Germany - were killed when trees fell on their cars.
Another woman was killed when a tree fell on her while she was jogging in a wooded area just outside the western city of Cologne.
Germany's national weather service issued a severe weather warning for most of the western and southwestern parts of the country on Sunday.
A spokesman for the Frankfurt airport said at least 200 flights had been canceled because of the high winds.
Frankfurt's central train station, one of Germany's largest transportation hubs, was also closed after wind gusts reached speeds of 130 kilometers (80 miles) per hour.
High winds in North-Rhine Westphalia, Germany's largest state, led to the cancelation of all regional and long-distance train services.
Waves hit French Atlantic coast
In France, authorities said at least 45 people died on Sunday after violent storms hit France's Atlantic coastal region.
The storm also led to severe power outages in central and northern France. Officials at the French energy group EDF said hundreds of thousands of households had been affected.
French weather service Meteo said on Sunday that the low pressure system, named Xynthia, was in the northeast of the country and that it was heading for neighboring Belgium and Luxembourg.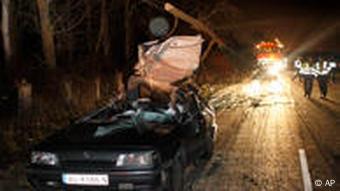 At least three cars were hit by falling trees in Spain
The storm developed in the Atlantic on Friday off the Portuguese island of Madeira and thereafter moved rapidly through the Iberian Peninsula, where it caused hurricane-force winds in Portugal on Friday and Spain on Saturday.
High winds on Iberian Peninsula
Gusts of up to 160 kilometers (100 miles) per hour swept through northwestern Spain on Saturday, killing three people who were hit by falling trees.
The wind gusts also left rail services in Galicia closed - as well as in the northern regions of Asturias, Cantabria, the Basque Country, and parts of Castilla and Leon.
Power outages were also reported throughout Spain on Saturday, where some 100,000 households were believed to be affected.
Interior Minister Alfredo Perez Rubalcaba warned Spanish citizens against using motor vehicles and going outdoors, calling Xynthia one of the most powerful and fast-moving storms to hit the region in years.
glb/Reuters/AFP
Editor: Andreas Illmer