On Wednesday, two airstrikes hit a hotel near a Houthi-controlled checkpoint in Arhab, north of Yemen's capital, Sanaa, according to medical sources, the Houthi rebel movement and officials.
The broadcaster Al-Jazeera reported that dozens of people were killed and wounded in the attack.
Houthi rebels, who control the capital and the north of the country, are allied with Iran. They are also linked to former President Ali Abdullah Saleh, although ructions in recent weeks are threatening to weaken their alliance further.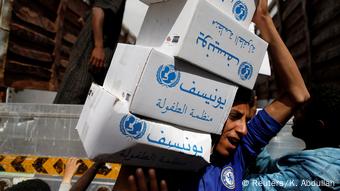 People in Yemen are fighting a major cholera outbreak
The internationally recognized government is backed by a Saudi-led coalition, which carried out Wednesday's airstrikes, according to The Associated Press (AP).
Witnesses told the AP that the two-floor hotel in the Qaa al-Qaidhi neighborhood collapsed and that bodies are still being retrieved.
'Largest humanitarian crisis'
Yemen's medical facilities have been decimated, exacerbating what the World Health Organization has called the "world's worst cholera outbreak." Food and other supplies are not getting to those in need. About 2 million people are internally displaced, according to the UN.
The country has been engulfed in civil war since September 2014, when Houthi rebels took the capital and overthrew the government.
The Saudi-led alliance intervened in Yemen's civil war in 2015 to restore the government to power, but the conflict has spiraled out of control.
ng/mkg (AP, Reuters, AFP)