That gesture of his. Unwitting opponents could interpret it as an insult. Or as a sign the guy had forgotten something. When he leaves the court victorious, Stan Wawrinka is in the habit of clenching his fist and tapping his forehead with an outstretched index finger.
The 2015 French Open winner is unequivocal about the true meaning: "I was the strongest. Up here, in the mind." The signal is meant for one onlooker in particular. Swedish coach Magnus Norman has taught his protege to believe in his own ability. Norman has also helped Wawrinka to victory at the US and Australian Open.
Read: French Open - where the coaches are the real stars of the show
His talent has never been in any doubt. But he never really felt he could be the best. In a recent interview with German daily Süddeutsche Zeitung, he admitted he doesn't see himself as one of the game's greats.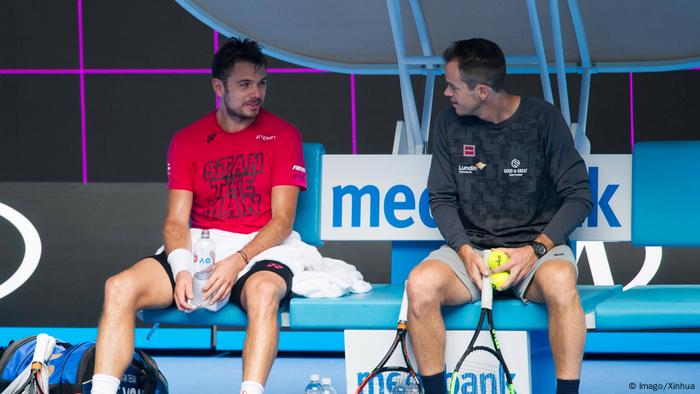 Magnus Norman (pictured right) has helped Wawrinka to major success
Unblemished record
But now, Wawrinka has reached the final of the French Open 2017 . Shortly beforehand, he eased to victory in Geneva as if it were a practice tournament. Wawrinka dominates his opponents almost at will thanks to his powerful serve and baseline shots.
"It was a really good level," he said in typically modest fashion after knocking out Fabio Fognini. "I've started playing better and better. It has been a perfect week so far."
Read: What now for Novak Djokovic after shock quarterfinal loss?
Players that shun the limelight and concentrate on ironing out their own shortcomings tend to make for the toughest opponents. On the other hand, the man who proudly wears his fan moniker "Stan the Man" on his training gear, is a veritable powerhouse. His one-handed backhand makes a mockery of all the predictions that this most difficult of shots was a dying art.
Wawrinka has raised the bar. Racquet head pointing upwards on the backswing, shoulders forward. No one squares up to the ball better. No one hits it sweeter. Not even that other Swiss player.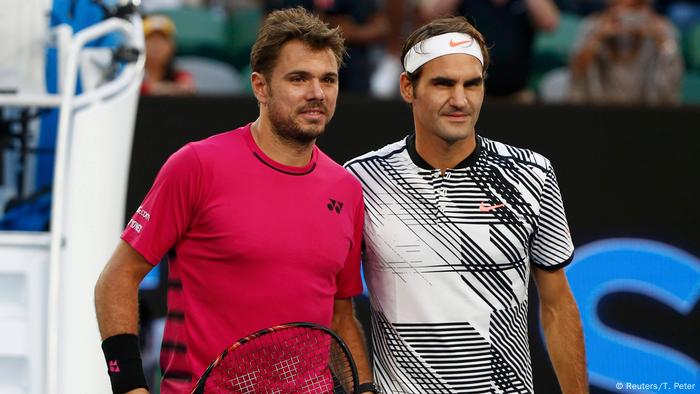 Wawrinka and Federer have ennjoyed a great friendship and rivalry on and off the court
"Cry baby" und "asshole"
Stan Wawrinka and Roger Federer. The original odd couple are friends ostensibly, having won the Davis Cup together. And yet Federer's decade-long dominance left his compatriot well and truly in the shadows. And then there was the incident with Federer's wife Mirka. At the final of the 2014 ATP World Tour Finals, Wawrinka complained about several interruptions by Mirka. "Cry baby" she shot back. You could have cut the alpine air with a knife for weeks after.
It wasn't until March that Wawrinka let slip that the relationship was back on track. After losing the final in Indian Wells, an exhausted and dejected Wawrinka looked over to Federer during the award ceremony. When Federer started smirking, Wawrinka blurted out: "Roger is laughing. He's an asshole, but it's okay." Only a true friend could get away with that.
Having grown up on a farmyard with an adjoining home for the disabled, Wawrinka is now at home on the most famous courts in the world. Success at Roland Garros in 2017 is within his grasp. Legends of the game such as Boris Becker and Mats Wilander believe he can do it. The semifinal against world number one Andy Murray was navigated in style. Then in all likelihood, he will face Rafael Nadal. The fact that all the talk is centered on the Spaniard, will suit Wawrinka down to the ground.