Syria's state news agency said on Monday that the military had extended the truce around the capital and opposition strongholds in the eastern suburbs for 48 hours.
The ceasefire had been brokered by Russia and the US "in agreement with the Syrian leadership and the moderate opposition," Sergei Kuralenko, head of the Russian coordination center in Syria, told the Tass news agency.
However, the northern city of Aleppo was excluded from the ceasefire and fighting has continued between government forces and rebel groups. Kuralenko said efforts were on to halt fighting in the area, where nearly 250 people have died in more than a week of fighting.
Airstrikes took place on Monday morning as well, but there were no immediate reports of casualties.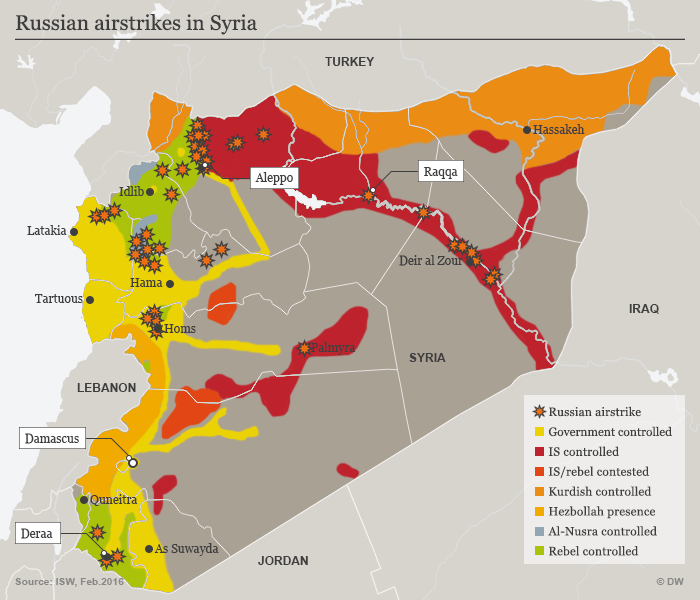 Kerry in Geneva
Meanwhile, talks to enforce peace in Syria were ongoing in Geneva, where US Secretary of State John Kerry met with Arab foreign ministers and the UN's Syria Envoy, Staffan de Mistura.
Kerry said Washington and Moscow had made progress, but warned it was premature to promise success.
"In many ways [the conflict is] out of control and deeply disturbing to everybody in the world, I hope," Kerry told de Mistura, who is due to fly to Moscow for talks with Russian foreign minister, Sergei Lavrov, later Tuesday.
The US and Russia have agreed to bolster the number of Geneva-based ceasefire monitors, Kerry told reporters and would work on reining in violence on the ground.
Kerry accused President Bashar al-Assad's regime of deliberately targeting three clinics and a major hospital last week. "The attack on this hospital is unconscionable," he said. "And it has to stop." He saida bolstered group of ceasefire monitors will track violations "24 hours a day, seven days a week."
Saudi Arabia is an important supporter of the Syrian opposition, including armed groups that are fighting President Assad. Foreign Minister Adel al-Jubeir warned that the world would not stand and watch Assad's activities.
"There is only one side that is flying airplanes, and that is Bashar Assad and his allies, so they are responsible for the massacre of women, children and the elderly… The world is not going to allow them to get away with this," al-Jubeir said in Geneva on Monday.
"He can leave through a political process, which we hope he will do, or he will be removed by force," the minister said. He added that al-Assad's days were "numbered."
mg/jm/jbh (AP, AFP, dpa, Reuters)