The news from chairman Dieter Zetsche sent DaimlerChrysler's shares up to 4.6 percent higher on the stock exchange, as investors reveled in the prospect of a leaner, fitter car maker.
DaimlerChrysler announced in a statement that it would cut up to 6,000 jobs "general and administrative" (G and A) jobs worldwide by 2008.
The cuts, which represented about one fifth of the car maker's G and A, workforce, were aimed at helping cut costs by 1.5 billion euros (1.8 billion dollars) each year in future, the German-US car maker explained.
The overall cost of the program, which would begin immediately, would come to around two billion euros, it added.
DaimlerChrysler said it was introducing a new management model that would entail the "consolidation and integration of G and A functions", such as finance and controlling, human resources and strategy.
"A more integrated G and A organization will result in more consistent processes, and reporting and decision-making will become shorter, faster and more efficient," the company explained.
"The new model is designed to enhance competitiveness and promote further profitable growth."
Zetsche shows that there is no favoritism in cost-cutting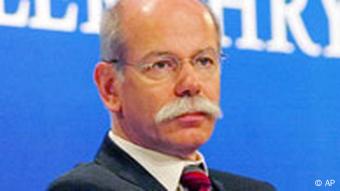 Dieter Zetsche gets serious.
The announcement shows how serious Zetsche, who slipped into the driving seat on January 1, is about cost-cutting and is interpreted as a signal that sacrifices were being demanded not only from the grass-roots workforce but from white-collar staff as well.
Only recently, Zetsche recently announced plans to eliminate 8,500 jobs at Mercedes plants across Germany. And his reputation as a merciless cost-cutter was forged while he was head of the group's US unit Chrysler where he slashed 26,000 jobs between 2000 and 2005.
The car maker said the centralization and consolidation of corporate functions would occur "throughout the company", even top management.
Zetsche will double up as head of the Mercedes Car division and chairman of Daimler.
For example, Zetsche himself has already decided to continue serving as head of the Mercedes Car division even after taking up the position of group-wide chairman.
Executives doubling up to cover the gaps
Board members Bodo Uebber and Rudiger Grube would also have dual roles -- Uebber would not only be head of DaimlerChrysler Financial Services, but would also be responsible for finance and controlling of the whole group; and Grube would be in charge not only of corporate development, but also of DaimlerChrysler's participation in the European Aeronautic Defense and Space Company (EADS).
That would effectively cut the number of management board members from 12 to nine.
"Together with other ongoing efficiency programs, G and A costs are expected to be reduced by 1.5 billion euros per year," saving around one billion euros on DaimlerChrysler's bottom-line, the car maker estimated.
"Preparation to implement this comprehensive program will start immediately, and take three years to fully implement. It is expected to require an overall expenditure of about two billion euros from 2006 to the end of 2008."