Germany is ranked among the top 20 countries in the world when it comes to fighting corruption at home and abroad, according to a report last November by Berlin-based corruption watchdog Transparency International.
But a report released on Tuesday by the United States Department of Justice said German automaker Daimler engaged in a "longstanding practice of paying bribes" to foreign officials in order to win government contracts between 1998 and 2008.
Transparency director Christian Humborg said while Germany has not yet filed charges against Daimler, the bribes mentioned in the US report were also likely to violate German law.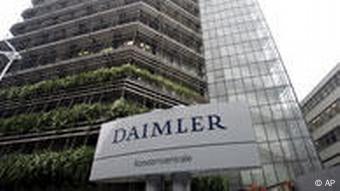 Stuermer says he never directly saw bribes taking place
"We would hope that the German authorities are looking at the case at the same time," he told Deutsche Welle. "And the document that was published yesterday gives a lot of hints and clues for the German authorities to look deeper into."
Uphill battle for German firms
Christoph Stuermer worked for Daimler from 1996 to 2002, and is now an auto industry expert at the economic forecasting organization Global Insight.
He said that while he never saw any bribery taking place at Daimler, the company often had no diplomatic support from the German government abroad.
"I took part in a number of negotiations in Central Asian states, and the need and the requirement for political support and for greasing the political machinery was blatantly evident," he said. "Nothing would happen without the favor of the people in charge."
Stuermer said companies based in many other countries, including the United States, have much more support from their governments when operating abroad. But Germany has taken a neutral stance, leaving companies themselves to figure out how to expand in foreign markets.
"In a way it's a bit of an uphill battle for German companies," he said. "Either they can not take part in the game and not defend their place in the global market, or they have to work their way around rules and regulations."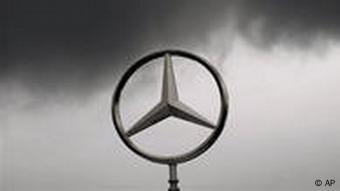 Daimler manufactures the car brand Mercedes
International conventions
Humborg said Germany's fight against global corruption took a big step forward in 1999 when it ratified an agreement by the Organization for Economic Cooperation and Development against bribery. Before then, he said, businesses could often claim bribes to foreign officials as tax deductions.
Germany also signed the UN Convention against Corruption in 2003, but parliament has yet to ratify it. Such ratification would require a change in the laws prohibiting members of parliament from engaging in bribery.
"The German parliamentarians have to change a law that directly concerns themselves," Humborg said. "For many years we have been pressing the German parliament to take this step, and not to have this gap between saying 'we are against corruption,' then on the other hand not ratifying this convention."
Author: Andrew Bowen
Editor: Ben Knight