A Düsseldorf court on Monday found a 37-year-old German man guilty of fighting for the Taliban and sentenced him to six years in prison.
Thomas K., a Polish-born German who grew up in the Worms area of Rhineland-Palatinate, was captured by US and German special forces in southern Afghanistan in February. He was brought to Germany in April.
Read more: German Taliban fighter on trial in Dusseldorf
Thomas K., who can not be named under German media protocols, was also charged with attempted murder for firing a mortar grenade at an Afghan army camp. But the Düsseldorf High District Court ruled that charge was unfulfilled.
Before the ruling, Thomas W. confessed that he traveled to Pakistan in 2012 and fought with the Taliban for five years. Prosecutors accused him during the trial of being a member of the Taliban's "Red Unit," which specializes in suicide attacks. In the unit, he spied on targets and built bombs.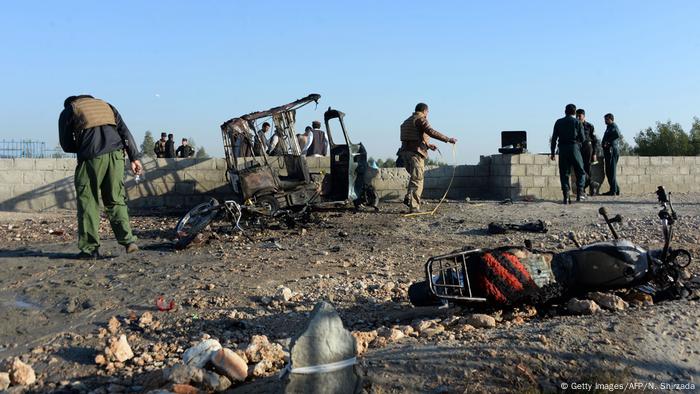 A bomb blast at a funeral ceremony in Afghanistan in 2017
The defendant, who said he converted to Islam at age 17 after the death of his father, also confessed to suffering from "schizophrenia and depressive episodes." Psychiatric experts said his mental issues neither "diminished" or "revoked" his criminal liability.
The trial, which began in mid-October, was held in a sealed-off high-security wing a few kilometers away from the court's main building.
dv/jm (AFP, dpa)
Each evening at 1830 UTC, DW's editors send out a selection of the day's hard news and quality feature journalism. You can sign up to receive it directly here.