After years of criticism from Roma activists and rights groups, the Czech government announced on Monday that it approved a sum to buy a huge industrial pig farm that's now located on a former Nazi concentration camp site.
Czech Culture Minister Daniel Herman said the government will spend 450 million koruna ($20.6 million; €17.5 million) to purchase the farm in Lety, located some 60 miles (95 kilometers) south of Prague.
Around 1,300 Czech Roma were sent to the Nazi concentration camp during World War II. Around 327 people died there while many others were sent to the Auschwitz death camp.
Read more: Reconstructed Auschwitz prisoner text details 'unimaginable' suffering
Activists decried the existence of the pig farm on the site, saying it showed gross disrespect for Holocaust victims.
Herman said that the deal with the farm's owner will soon be signed and a memorial to the camp's Roma victims will take its place.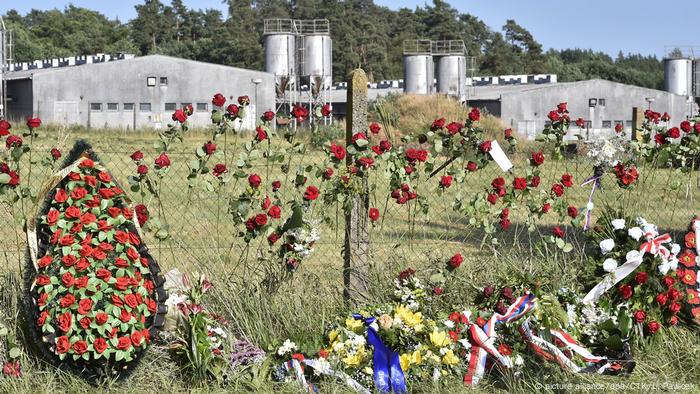 Flowers and wreaths for Roma victims dot the fence around the pig farm which now stands on the site of a former Nazi concentration camp
The negotiations with AGPI, the company that owns the farm, have lasted over 20 years, according to Czech broadcaster CT24.
CT24 noted that the company originally wanted a new farm in exchange for giving up its current site, but later agreed to financial compensation.
Read more: Former Nazi death camp guard charged with complicity to murder
The farm's buildings will first need to be demolished and the area sanitized before construction for the memorial can begin, CT24 reported, citing an earlier Culture Ministry statement.
Around 10,000 Roma lived in Nazi-occupied Czechoslovakia during the war. The 250,000 members of the Czech Republic's Roma minority continue to face widespread prejudice.