The center-right government in the Czech Republic survived a parliamentary vote of confidence on Friday amid a string of graft scandals and a public outcry at its austerity policy.
The governing coalition was backed by a majority of 105 members of the 200-seat parliament. Two were absent and 93 voted against at the end of a nine-hour session.
The result contrasts with a surprise vote in Romania, also on Friday, in which the leftist opposition toppled the cabinet after just two months in office.
Despite the win, Prime Minister Petr Necas faces a tough challenge if he is to continue his fiscal and health reforms with an evenly split assembly.
Speaking to reporters after the vote, he said, "Important votes are ahead of us. It will be necessary to maintain this majority in favor of reforms and fiscal consolidation."
Necas's government has been embroiled in a series of corruption scandals since taking power in 2010. Last week, Necas removed junior coalition partner Public Affairs from the cabinet after its leader was convicted of making payments to some party members to ensure their loyalty.
The governing coalition now consists of the right-wing Civic Democrats and TOP 09 parties, along with a small breakaway faction of the Public Affairs party.
Austerity outrage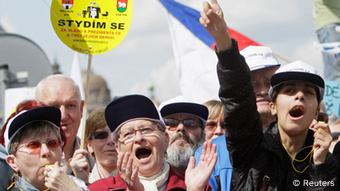 Tens of thousands protested the government's austerity drive
The government has also triggered public outrage with unpopular austerity measures aimed at cutting the public deficit below the European Union's threshold of 3.0 percent in 2013 from the 3.5 percent expected this year.
Last Saturday, 90,000 people demonstrated in the center of Prague, protesting both against austerity and the graft scandals and calling for Necas's resignation. Unions have threatened strikes and further protests.
The Czech Republic joined the European Union in 2004 and has pledged to join the eurozone. But Necas has ruled out joining the common currency during his term, which ends in 2014, owing to the eurozone debt crisis.
tj/ipj (Reuters, AFP)