Croatia's state referendum commission said on Sunday evening that preliminary results were showing a majority of Croats taking part in a vote on EU membership had voted in favor.
With nearly all of the ballots counted, officials said that about 66 percent of participants had answered positively to the question "Do you support the membership of the Republic of Croatia in the European Union?"
About 33 percent were against, with a small proportion of ballots declared invalid.
"Yes" votes from more than 50 percent of those taking part in the poll were needed for the country to become the 28th member of the bloc in July next year.
"This is a big day for Croatia and 2013 will be a turning point in our history. I look forward to the whole of Europe becoming my home," President Ivo Josipovic said after voting.
"That's it! Tonight we embark on the road to the EU," Foreign and European Affairs Minister Vesna Pusic said.
Casting his ballot, Croatian Prime Minister Zoran Milanovic voiced confidence that the vote would be positive, saying that EU membership offered the country "development and prosperity."
'Sitting at the same table'
Opposition leader and former premier Jadranka Kosor agreed, voicing her confidence during polling that a yes vote would be achieved.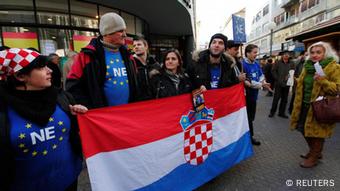 Not all were in favor of signing up for the EU bloc
"On July 1, 2013, we will sit at the same table with European nations," she said.
However, the referendum did not appear to excite an enormous amount of enthusiasm among the country's voters. Only around 44 percent of the electorate took part.
Those in favor of EU membership claim it will help the country - which has an 17-percent unemployment rate - out of recession, enabling it to deal with 48-billion euros ($61 billion) of foreign debt. Opponents say the country's population of 4.2 million has little to gain, and that joining the EU would mean a loss of the sovereignty it fought hard to attain during the breakup of the former Yugoslavia in the 1990s.
Pollsters had predicted that there would be 60-percent backing for EU membership. Croatia would be only the second former Yugoslav republic to join the EU after Slovenia became a member in 2004.
Author: Spencer Kimball, Richard Connor (AP, AFP, dpa, Reuters)
Editor: Nicole Goebel