Crisis talks on the future of German supermarket operator Kaiser's Tengelmann broke down on Thursday, leaving more than 16,000 jobs hanging in the balance.
The crisis has engulfed Germany's major supermarkets, Edeka and Rewe.
Edeka, Germany's biggest supermarket operator, had initially been granted ministerial approval on behalf of Economics Affairs Minister, Sigmar Gabriel, to acquire 100 percent of Kaiser's operations. However, Edeka's arch rival Rewe won a court order overturning the ruling. The court had ruled that it infringed German monopoly regulations.
Thursday's top-level talks between the heads of the retail rivals, along with leaders of the service sector union Verdi, were expected to lead to an agreement. Reports suggested that Rewe was willing to withdraw its court order and potentially also acquire some of Kaiser's sites.
However, Edeka and Rewe heads bitterly blamed one another for the breakdown in negotiations. Rewe CEO Alain Caparros said that "Rewe has not been offered a serious, verifiable and legally sound solution" to agree to the takeover.
He said he would not withdraw the court order without reaching a fair balance of interests.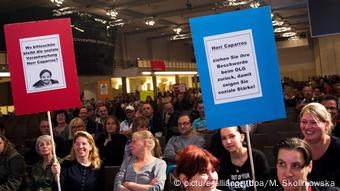 Kaiser's staff protest against the Rewe CEO's decision to file a court order against the ailing supermarket's takeover
Kaiser's head, Karl-Erivan Haub, accused Caparros of setting out to sabotage the talks, claiming that he was not interested in holding serious talks.
Similarly, Edeka released a statement saying: "Edeka was willing to make extremely broad concessions to offer a secure future to Kaiser's Tengelmann workforce." The chain's head Markus Mosa said that Rewe representatives were not interested in finding a solution in the context of the ministerial approval.
Verdi said that all parties have until Monday to reach an agreement. If no agreement is reached, up to 16,000 Kaiser employees risk losing their jobs.
Gabriel has also appealed against the overturning of his ministerial order. A decision is not expected until November 15, although that appears too late to mount a rescue for Kaiser's.
Kaiser's corporate history dates back to the 1880s. However, years of fierce price competition and rivalry in the German retail business resulted in it suffering a string of losses. Two years ago it announced plans to sell its operations to Edeka.
dm/jm (dpa, Reuters)