The US Republican presidential nominee on Sunday suggested that the people of the annexed Crimean Peninsula preferred Russia over Ukraine.
"You know, the people of Crimea, from what I've heard, would rather be with Russia than where they were," Trump said on US broadcaster ABC's "This Week" program.
"And as far as the Ukraine is concerned, it's a mess. And that's under the Obama's administration with his strong ties to NATO. So with all of these strong ties to NATO, Ukraine is a mess. Crimea has been taken. Don't blame Donald Trump for that," he added, referring to himself.
Trump previously suggested that he would consider recognizing Russia's illegal annexation of Crimea through an internationally-condemned referendum, which would mark a policy reversal of Washington's stance on the matter if he is elected president in November.
In 2014, Moscow staged a military intervention in the Ukrainian peninsula and consequently annexed Crimea through a public referendum, which the UN, US, Germany and other Western allies condemned as an assault on Ukraine's sovereignty.
The move inflamed pro-Russia civil unrest in Ukraine's eastern regions following pro-democracy protests in the capital Kyiv that led to the overthrow of Kremlin-backed President Viktor Yanukovych. The Kremlin has denied its involvement in the unrest despite the reported the use of heavy Russian artillery by eastern Ukrainian rebels.
In the wake of the annexation, NATO suspended the NATO-Russia Council, which led to the alliance's worst relations with Moscow since the end of the Cold War.
US President Barack Obama in July announced that Washington would deploy 1,000 troops in Poland, a country that has expressed concerns of a similar Russian military intervention as the one seen in Crimea in 2014. Baltic states also called for a NATO build-up in their countries, citing similar fears.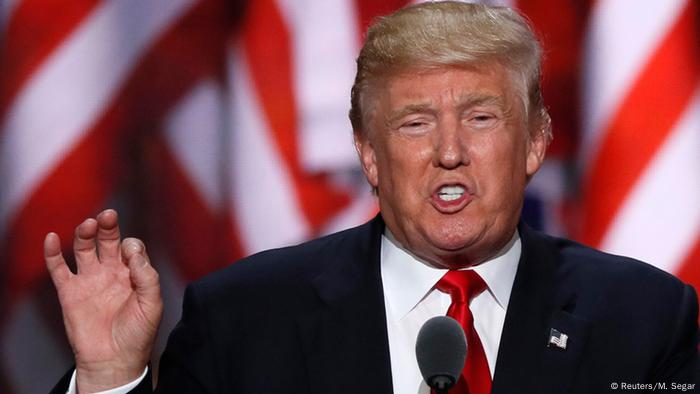 Trump: "Russia, if you're listening, I hope you're able to find the 30,000 emails that are missing" from Clinton's private server
'Troubling willingness'
Critics have slammed Trump's apparent support for what analysts consider Russia's wish-list policies, including scaling back support for NATO countries and instigating Russian espionage in the US.
In an interview with "Fox News Sunday," Democratic presidential nominee Hillary Clinton lashed out at Trump for urging Russia to release emails held on her private server while serving as US' top diplomat.
"We know that Russian intelligence services hacked into the DNC and we know that they arranged for a lot of those emails to be released and we know that Donald Trump has shown a very troubling willingness to back up Putin, to support Putin," Clinton said.
Earlier this month, DW reported the links between Trump's campaign manager to Ukrainian politicians with pro-Russia policy stances.
Paul Manafort, Trump's chief campaign manager, worked on Ukraine's former President Yanukovych, who held a pro-Russia stance on Ukrainian relations with Moscow.
ls/kms (AFP, AP, Reuters)