Prime Minister Hun Sen's official Facebook page has more than 6.1 million "likes" in the Asian country of 15.2 million people. But a criminal court meted out financial penalties Tuesday to an opposition figure for suggesting in March that number might have been inflated with fake profiles on the increasingly popular social media platform.
It came at a sensitive time: Prime Minister Sen is taking a belated leap into the digital age in a bid to court young, urban voters ahead of next year's election, tipped to be the biggest test of his three-decade rule.
The Phnom Penh Municipal Court on found exiled opposition leader Sam Rainsy, president of the Cambodia National Rescue Party, guilty and ordered him to pay a fine of 10 million riel ($2,500) in addition to 15 million riel ($3,750) in compensation to Sam Soeun, a senior official assigned to oversee the premier's official Facebook page. Soeun told reporters that Rainsy had made the allegation due to jealousy caused by the 64-year-old leader's digital popularity. "This is like a competition," Som Soeun said. "When he lost, he cried foul." Attorneys for Rainsy - who lives in France - said the opposition planned to appeal.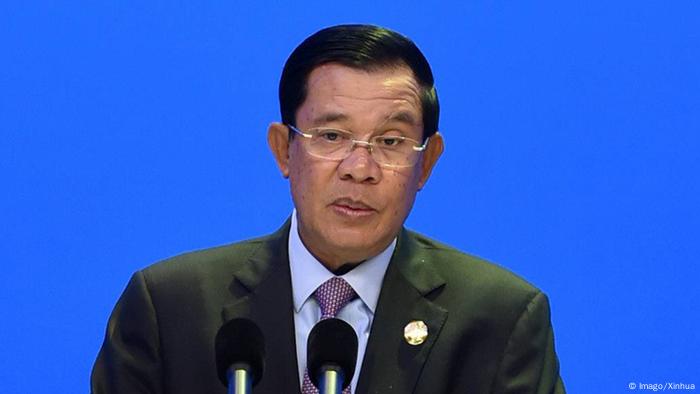 Hun Sen has been Cambodia's leader for three decades. But in 2013 his grip on power was shaken when the opposition won 55 seats in the National Assembly, leaving the ruling party with 68
Tension between Cambodia's two main political parties has risen in recent months, with the opposition complaining of a crackdown in a bid to intimidate critics ahead of the 2018 election.
This comes a day after a court jailed an opposition senator for seven years over his Facebook posting of a fake government pledge to dissolve the border with Vietnam, a verdict opposition members say could fuel nationalist tensions.
jar/kms (AP, Reuters)