He might be Germany's most famous protester: Pensioner Dietrich Wagner joined demonstrations on September 30, 2010 - now referred to as Black Thursday - in Stuttgart's Schlossgarten. He was protesting a controversial train station reconstruction plan known as Project Stuttgart 21 when a water cannon struck him in the face. Since then, the 69-year-old has been nearly blind.
"That day has changed his world view completely. He doesn't trust the state anymore," said his lawyer, Frank Ulrich Mann, in an interview with DW.
According to the pensioner, the water gun crew had great fun targeting the heads of protesters. He saw pepper spray used on children.
Mann's client now wants justice.
"His concern is that those responsible finally be punished," Mann said.
An order of summary punishment has been filed against four police officers. The court case against the two officers in charge of approving the use of water guns begins on Tuesday (24.06.2014). They are accused of negligence.
Silence from the police union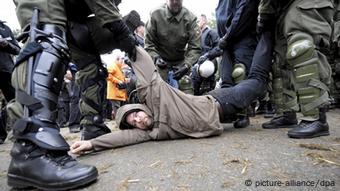 Police unionist Rainer Wendt: German police are not using increasing force
Joachim Lautensack, the regional chairman of the police union in Baden-Wuerttemberg, declined to speak with DW about the case itself. But he emphasized that the police union has given its full support for the two accused police officers.
Chairman of the German police union Rainer Wendt said, "We have no problem with police violence."
The number of criminal charges against police officers has been a constant for years, at between 2500 to 3000 annually he said in an interview with German daily newspaper "Die Welt".
For Wendt, critiques of police reacting with increasing force to demonstrations is not justified are not justified. It has to more to do with officers' increased duties, he says, adding that there just isn't not enough staff, for example, to deal with growing numbers of demonstrations.
Cover-ups?
When police officers are reported due to harsh methods against citizens, the ensuing court cases do not often proceed like other cases.
"We have a high rate of dropped cases and a low rate of criminal charges," said Tobias Singelnstein, law expert at the Freie Universität in Berlin. Many of the charges fall apart due to police culture, he says.
"Colleagues usually don't testify against colleagues," Singelnstein told DW. Often, police officers cover for each other or testify in favor of colleagues, he says. If there is no hard evidence against the officers involved in the trial, then it's word against word.
"Then, in most cases, the court believes the statements of the police," said the law expert. In the hierarchy of "trust" in the German justice, police officers come in high.
Change of police culture needed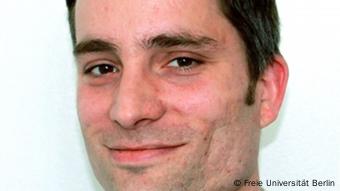 Police culture needs to change, Singelnstein says
Another reason lawsuits against police officers are abandoned is that it's often difficult to clearly identify violent the perpetrators. That's why the federal sates of Berlin and Brandenburg have introduced police identification numbers.
Singelnstein thinks there needs to be an additional public debate about the issue, one that results in organizational corrections and a change in police mentality. "Police culture needs to be changed so that police are able to detect and handle mistakes," the law expert said, adding that it would have knock-on benefits during criminal proceedings.
The verdict in the case of the two police officers at the regional court in Stuttgart is expected in December 2014. Pensioner Wagner will have to wait until then to see if he, as a victim of police violence, can win the case.