Article 5 of UEFA's rules and regulations for the 2016-17 Champions League season, entitled "integrity of the competition," states that "no individual or legal entity may have control or influence over more than one club participating in a UEFA club competition."
The company behind RasenBallsport Leipzig, Austrian energy-drink manufacturer Red Bull, are also the principal backers of FC Red Bull Salzburg - currently on course for an eighth Austrian Bundesliga title in 11 years and odds on favorites to qualify for next season's Champions League.
But according to a report in published in the Austrian newspaper "Salzburger Nachrichten" in February: "European football's governing body [UEFA] has signaled that only one Red Bull-backed club may play in the Champions League."
Should this be the case, only Red Bull Salzburg, as the higher positioned team in their league, would be permitted to compete.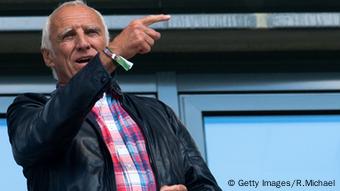 Billionaire Red Bull chief Dietrich Mateschitz, 72, is the financial power behind the company's sporting ventures, including RasenBallsport Leipzig & Red Bull Salzburg
"If both clubs qualify for the Champions League, which seems likely, one has to ask whether they conform to UEFA's regulations," former Rapid Vienna sporting director Andreas Müller told German public television station WDR when asked about the matter for a report that was broadcast on the weekend. "And the answer has to be: no, certainly not."
In the same report, football lawyer Thomas Dehesselles added: "The fact that the two clubs could compete in the same competition, and potentially even directly against each other, would not just be legally dubious but also a sporting-political disaster."
Undeniable similarities
Red Bull insists that Red Bull Salzburg and RasenBallsport Leipzig are separate, independent entities but the links between the two teams are well documented.
Both are wholly dependent upon the financial backing of Red Bull owner Dietrich Mateschitz and both feature the name of their parent company in their names - although the pseudonym RasenBallsport, an invented term which translates to "lawn ball sport," is used in Leipzig since the German football league (DFL), which operates the Bundesliga, prohibits the use of sponsor names.
Both teams play in the same kit with almost identical logos. Again, RB Leipzig's logo was altered slightly to adhere to DFL regulations. But that didn't prevent confusion in last summer's Champions League second qualifying round when Red Bull Salzburg's Andreas Ulmer emerged for the second half having accidently put on an RB Leipzig shirt.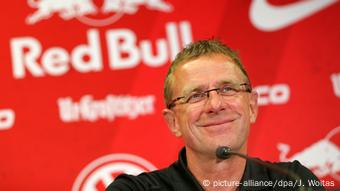 Up until this season, Ralf Rangnick, 58, held the position of sporting director at both RB Leipzig and RB Salzburg
There are overlaps in personnel as well. Up until this season, RB Leipzig's sporting director, Ralf Rangnick, credited as the brains behind RB Leipzig's sporting success, was also sporting director in Salzburg.
Similarly, RB Leipzig CEO Oliver Mintzlaff is also Red Bull's "head of global soccer." Earlier this year, he was obliged to physically clear his desk in Salzburg. However, the extent to which the two are still involved in both clubs remains unclear, especially given the similarities in playing style on teams throughout the entire Red Bull organization.
Controversial transfers
Transfers between the two clubs have also highlighted the levels of co-operation between Leipzig and Salzburg - although the Leipzig-based team increasingly appears to be favored, with Salzburg reduced to the role of what appears to be similar to a "farm team" in the North American model.
Nine of RB Leipzig's current Bundesliga squad were recruited from Salzburg and the transfer activity between the two clubs has raised eyebrows. Due to a clause in his contract prohibiting a move to a rival Austrian club, Rapid Vienna's Marcel Sabitzer wasn't permitted to sign for RB Salzburg in 2014. Instead, he signed for RB Leipzig who promptly loaned him to Salzburg.
Marcel Sabitzer's 2014 move from Vienna to Salzburg via Leipzig caused controversy.
Last summer, full back Bernardo was suddenly transferred from Salzburg to Leipzig. No transfer fee was discussed with Rangnick stating: "We'll discuss the technicalities later."
Transfer dealings have also helped RB Salzburg circumvent UEFA's Financial Fair Play rules. In order to make the two clubs appear more independent, Red Bull has reduced its official role in Salzburg to that of principal sponsor rather than outright owner. But according to UEFA regulations, no single sponsor may contribute more than 30 percent of a club's total income.
Instead, RB Leipzig have paid inflated fees for players such as 18-year-old Dayot Upamecano (10 million euros, $10.7 million) and 22-year-old Naby Keita (15 million euros), thus enabling Red Bull to finance a large part of RB Salzburg's 60-million-euro budget indirectly via RB Leipzig.
New sponsors
Both clubs are searching for new sponsors to help share the burden and adhere to Financial Fair Play, but the search is proving difficult, at least in part because potential sponsors are put off by the dominant, omnipresent Red Bull branding.
RasenBallsport Leipzig insist that they are not worried about penalties or about their eligibility to compete in the Champions League since the two clubs are, legally speaking, separate entities. But against the background of such intricate co-operation, the two clubs now run the risk of falling foul of UEFA's regulations.