Women are a rare sight in the upper echelons of German companies. It's something many in the country's political establishment want to change with mandatory gender quotas - or incentives for companies that take voluntary measures to promote women to executive positions.
When it comes to corporate rewards, it's hard to think of a more males-only 'incentive' than the orgy field trip to Hungary that insurer Hamburg-Mannheimer - now part of Düsseldorf-based Ergo insurance group – organized in 2007 for its 100 best-performing agents.
The Handelsblatt newspaper broke the story on Thursday based on the testimony of an anonymous source who attended the event.
The source said the reception was held at the storied Gellert Thermal Spa and Bath in Budapest. After passing security checks designed to ensure no cameras were smuggled in, the agents were greeted with plenty of alcohol and some 20 prostitutes.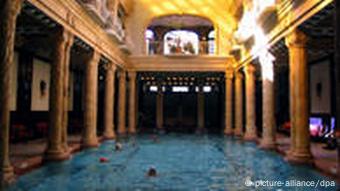 Budapest's Gellert bathhouse provided a posh venue for the company's orgy
The women at the party wore either a red, yellow or white ribbon so guests would know which were regular hostesses, which were prostitutes, and which were "reserved" for top management. After each sex encounter, the prostitutes were marked with a stamp on their forearm, with some collecting more than a dozen.
Damage control
News of the sex party comes as the Ergo insurance group tries to win new customers with a major advertising campaign that promotes the company as a fair and friendly alternative to other large corporations.
Ergo has described the event as a "regrettable" and "massive" breach of its code of conduct, which only came into force in 2008.
"Early on we did everything in our power to make sure this type of thing does not happen again," company spokesman Alexander Becker told Deutsche Welle.
"It had to do with one sales organization of independent agents. (But) of course there are people on the corporate side who are responsible for managing these sales organizations."
Indeed, the company's own employee magazine published cryptic reports in 2007 that said "things happen, which never happened," according to Handelsblatt.
Another passage said that "nothing and nobody can match this, and that's exactly why it's so wonderful to be a (Hamburg-Mannheimer) freak."
Extreme discrimination
Ines Kappert, author of a book on male gender roles and opinion editor at Berlin's Tageszeitung newspaper, said the Hamburg-Mannheimer corporate orgy is an extreme byproduct of male domination in German workplaces.
"Men promote colleagues and employees who are similar to them and social norms are established that way," she told Deutsche Welle. "It creates a culture of exclusion. Obviously if a visit to a brothel in Hungary is used as a reward, women and homosexual men aren't expected to be included."
Kappert said she doesn't necessarily take issue with the sex trade when it's legal, but pointed out the corporate structure in Germany is intrinsically set up to favor men. Gender quotas have been debated for nearly nine years and are long overdue, she added.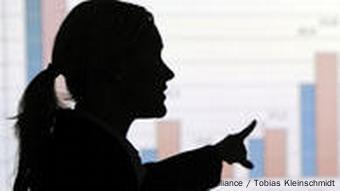 Women are almost completely shut out of the executive level of German business
"It's clear that significant economic loss is occurring, because there many well-educated women who have no chance to advance their careers," she said.
"The willingness to make a voluntary commitment and change this is nonexistent - that's why a regulatory instrument is needed. There are plenty of qualified women in Germany. They're simply not being taken into account."
Ergo spokesman Becker said the company makes "an intensive effort to give our female colleagues good chances to be promoted."
Who paid for it?
Hajo Köster, legal advisor to the Federation of the Insured – a Schleswig-Holstein-based consumer protection group – said he wants to know who ultimately paid for the orgy in Budapest.
"It should be cleared up how this was paid for," he told Deutsche Welle. "Supposing the entire event cost one million euros… who ended up paying for it? Because I can easily imagine that the brunt of the costs were carried by the insured."
Ergo's Becker said that while the company acknowledges the sex party took place, it "can't confirm the sordid little details" reported by Handelsblatt. The managers responsible for the event have since left the company, he said.
Author: Gerhard Schneibel
Editor: Sam Edmonds