The eastern German city of Dresden has placed residents of a high-rise building under quarantine after one if its residents died following his return from India.
The young man who died after contracting COVID-19 had no known previous conditions and his condition deteriorated
rapidly, a statement said.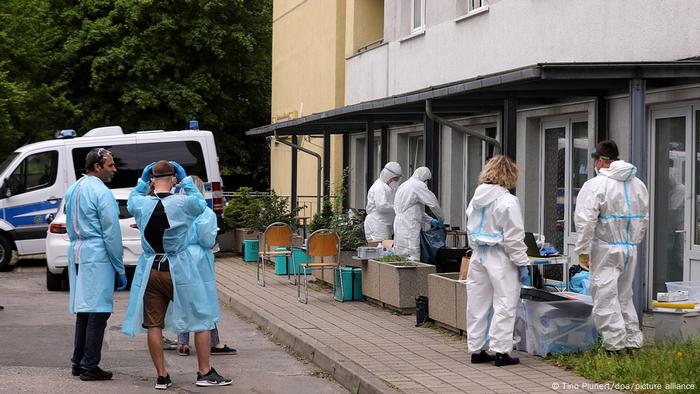 Dresden authorities suspect the resident was infected with thedelta variant, first discovered in India
Health officials said they are concerned he may have died from the delta variant of the coronavirus originally identfied in the South Asian country.
Health workers are carrying out floor-by-floor COVID-19 testing of all the residents.
Residents have been instructed not to leave the building until at least June 8, by when test results and sequencing should be complete. Dresden authorities didn't specify how many people are affected.
Police officers were controlling entrances and exits.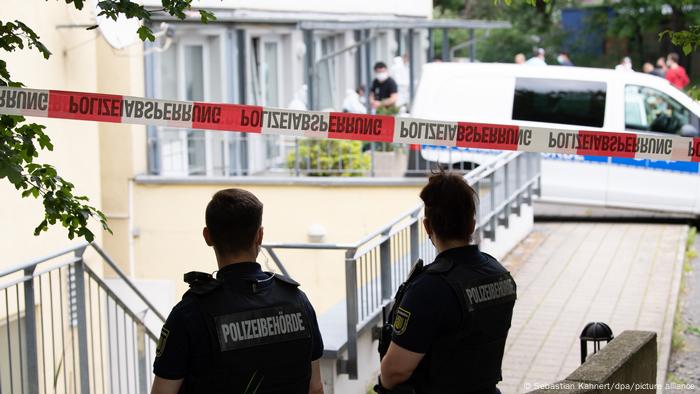 Police have been deployed at the entrances and exits of the residential block
The total number of coronavirus cases in Germany, however, has continued to fall following an extended lockdown and the roll-out of its vaccination campaign.
Germany recorded 3,165 new coronavirus infections over the previous 24 hours, according to data released on Friday by the Robert Koch Institute (RKI), the federal government agency for disease control and prevention. A week ago, the figure stood at 7,380 new COVID-19 infections.
Here are other major developments concerning the coronavirus around the world
Europe
France is removing the requirement for coronavirus tests for vaccinated Europeans starting Wednesday.
The government is also allowing vaccinated tourists from most of the rest of the world, including the US, much of Asia, Africa, the Middle East to also come back, provided they have a negative test.
Unvaccinated children will be allowed to enter with vaccinated adults, but will have to show a negative test from age 11.
People from "green" listed countries incouding Australia, South Korea, Israel, Japan, Lebanon, New Zealand and Singapore will no longer need to provide a negative test if they're vaccinated.
Budget airliner Ryanair has said it is expecting unrestricted movement between Europe and Britain from July onwards, despite Britain's move to further limit travel on Thursday.
The UK removed Portugal from its quarantine-free travel list.
In Russia, President Vladimir Putin on Friday announced the possibility of selling vaccinations to foreigners, "I am asking the government to study this issue in full by the end of the month, to establish conditions for foreign citizens to get vaccinated in our country for a fee," he said.
Moscow is seeking to enhance its global reputation with its Sputnik V vaccine and on Friday Putin joined a video link connecting him with labs in Argentina and Serbia where production of the Russian jab started. The event was carried live by state broadcaster Rossiya 24. To date, Sputnik V has been approved by 66 countries. It is currently under review by the World Health Organization (WHO) and the European Medicines Agency (EMA).
Americas
Mexico says it wants to use millions doses of coronavirus vaccine that the US has promised to donate by the end of June for jabs near the border US-Mexico border. Mexico hopes to vaccinate a third of all 18-to-40-year-olds living there, according to Foreign Minister Marcelo Ebrard. This would put the region on par with the US side of the border, something Mexican authorities hope will allow a reopening of the border, which has been closed to all non-essential travel since March 21, 2020.
Asia
In India, a 9-year-old lioness by the name of Neela has died from coronavirus. Officials at the Arignar Anna Zoological Park, a state-run zoo located just outside Chennai, said on Friday that Neela passed away from COVID-19 on Thursday, while eight other lions also tested positive for the virus.
Pakistan on Friday announced that it has begun production of the single-dose Chinese CanSinoBio coronavirus vaccine. The product, branded PakVac, is made from a Chinese concentrate that is processed and packaged at a lab in Islamabad. Health officials say they expect to be able to produce some 3 million doses each month beginning in July.
Nepal has reported its first death from mucormycosis or "black fungus," the deadly infection affecting thousands of COVID-19 patients in India.
The 65-year-old man who died was being treated in an intensive care unit in western Nepal after being diagnosed with temporal lobe encephalitis.
There are now at least 10 cases of "black fungus" in the Himalayan country, according to the health ministry.
South Korea has said it expects to meet its COVID-19 inoculation target for the first half of the year ahead of schedule as 81% of people aged between 60 and 74 years old have signed up for vaccinations. It will begin offering vaccinations for this age group in June.
South Korea has vaccinated 7.1 million people, or 13.8% of its 52 million population, with at least one dose since it began its campaign.
Japan has delivered to Taiwan 1.24 million doses of AstraZeneca coronavirus vaccine for free as the island battles a spike in domestic infections. Taiwan, which has vaccinated only about 3% of its population, has turned down vaccine offers from mainland China, citing safety concerns and accusing Beijing of trying to block Taiwan's vaccine purchases internationally.
Catch up on DW content
Africa has the lowest vaccination rate of all continents. African countries have received few doses so far. But, even when doses are available, some countries struggle to get people vaccinated. Click here for the full story.
India's reputation as the "pharmacy of the world" has been bruised by COVID vaccine shortages. However, vaccinating people in developing countries largely depends on getting Indian production back on track. Click here for the full story.
Thailand is in the grips of its largest COVID-19 outbreak to date even as the government pushes to reopen the country for tourists. Can a domestically made vaccine turn the tide? Watch the fil below.
js,mvb/rt (AFP, Reuters, dpa AP)