Police in Germany's southwestern state of Baden-Württemberg said the 34-year-old alleged perpetrator of Sunday's pre-dawn shooting had died of wounds after leaving the nightclub and ending up in a shootout with officers.
A terrorist motive was ruled out by a police spokesman, who said the incident appeared to have been a crime of passion by a sole perpetrator.
The bouncer of the establishment was killed in the attack, in which an M16 automatic rifle was used.
Three other persons inside the venue had been injured as well as a police officer hurt during the later shootout. The officer's wounds were not life-threatening, police said.
Owner's son-in-law
The alleged attacker was a man of Iraqi Kurdish descent who had come to Germany as a child in 1991 and was not himself an asylum seeker, prosecutors said on Sunday.
They said the man was the son-in-law of the discotheque's owner. After an argument outside the club, he had gone home to fetch the gun and returned to the club with it before commencing the attack, they said, adding that the nature of the quarrel was not known.
It was unclear where the man had obtained the weapon, which is of a sort issued to US military forces. Police said he had some previous convictions for violence and was known to authorities as a drug offender.
The multi-story nightclub, Club Grey, is located in an industrial zone about a kilometer (less than a mile) from Constance's small airport.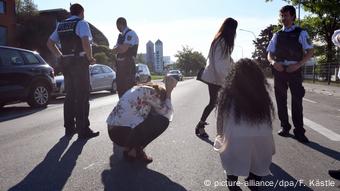 Police and witnesses outside the discotheque
Phone calls, panic
Multiple emergency phone calls had been received around 4:30 a.m. (0230 UTC), local time, police said.
"Guests were able to save themselves by fleeing outside or hiding," the spokesman added
The region's German public broadcaster SWR initially quoted eyewitnesses as saying that the bouncer was hit by shots from a semi-automatic pistol as he tried to resist the alleged perpetrator.
Disco 'packed'
Eyewitnesses quoted by the German news agency DPA said, once inside, the perpetrator shot indiscriminately at guests over "several minutes".
"The discotheque was packed. I reckon there were hundreds of people there," the witness said, adding that he and friends fled immediately.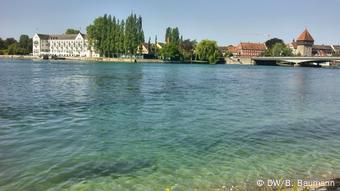 Constance on the shores of Lake Constance, near Switzerland
DPA said special police units rushed to the scene in the German city of 83,000 inhabitants, which lies directly on Germany's southern border with Switzerland, not knowing whether the incident involved a single or multiple attackers.
Hamburg rampage
Germany remains on edge, after a fatal rampage in Hamburg on Friday.
A rejected asylum seeker killed one person and injured six others while armed with a knife seized at a Hamburg supermarket.
Hamburg authorities later said he was an Islamist due for deportation and known to police as psychologically unstable.
ipj/rc (dpa, SWR, AFP, Reuters, AP)