A black and red generator sends electrical power to a small white hut where a group of clients charge their mobile phones. But this is not a usual mobile charging center such as those found in urban cities. It is Mugunga 3, a camp for the internally displaced persons (IDPs) located 10 km (6.2 miles) west of Goma, the capital of North Kivu province in eastern Democratic Republic of Congo.
The hut's owner is 29-year-old Theophile Niweyimana, a self-made entrepreneur. Theophile and his family left Masisi territory in 2012, when the Congolese army conducted military operations against armed militant groups. Since then, he has been living as an internally displaced person in Mugunga 3 camp.
In April 2014, due to financial constraints, humanitarian organizations decided to provide food assistance only to the most vulnerable people in the camp. These include rape victims, old people and those living with HIV.
Food aid reduced
Djaounsede Pardon, a media and communication officer with the World Food Program (WFP) in North Kivu, told DW that these financial problems were a result of other crises that erupted in the region and around the globe. He said they were now focusing more on children.
"We have more than ten primary schools in Goma benefiting from WFP's school feeding program. And those programs are not only destined to displaced people, but every malnourished person in and around the camp."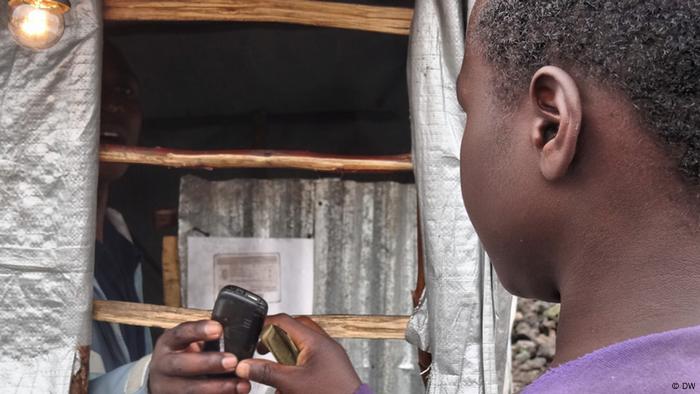 The mobile phone charging business has made Theophile to be self reliant
Theophile didn't fall under that category and so he had to come up with a way of supporting himself, his wife and four children. "I was making money by transporting luggage from passersby, Theophille told DW.
"When I saw someone charging cell phones next to the camp, I asked to take the electricity from his generator to my own house so that phones can be charged in the camp."
Power supplier in IDP camp
A few months later, Theophile bought his own small generator to charge mobile phones for a small fee in return. The generator also supplies electricity to a nearby hair salon. Although he earns less than $5 (4 euros) per day, Theophile can now feed his family. However, he admitted there were challenges. "If I lose a client's phone, it's not easy to buy a new one and feed my family at the same time."
"Sometimes Congolese soldiers refuse to pay and want me to charge their phones for free while I pay for fuel for them. What can I do?"
Hoping to return home
The National Commission for Refugees and its partners have helped around 2,000 internally displaced persons to return home. That's according to Jean Marie Bamenya a camp administrator at Mugunga 3 camp.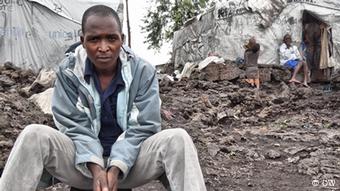 Theophile says he has big plans for the future
The remaining 3,000 families have to wait until the government declares their home villages safe to return to.

"We no longer think about humanitarian assistance but about helping IDPs to go back home," Marie Bamenya said. "We are waiting for the government to issue a map of safe places so that we can plan the return of IDPs from Masisi, Walikale and parts of Kalehe," the camp administrator added.
Until that happens, IDPs like Theophile Niweyimana would have to rely on their own initiatives and entrepreneurship skills to survive. Once he's back home in Masisi, Theophile hopes to expand his business and create jobs for other young people.