To what extent can people be "conflict sensitive" after decades of living with war?
"Conflict" is one of the most-frequently used words in eastern Congo. Everyone is affected or has been affected by war. The two provinces, North and South Kivu, are rich in natural resources - more so than in most other parts of the world - and various militias are fighting for control. In the last several months the M23 rebel movement has been terrorizing people in North Kivu, especially in areas north of the provincial capital, Goma. According to the UN almost half a million people have fled since April.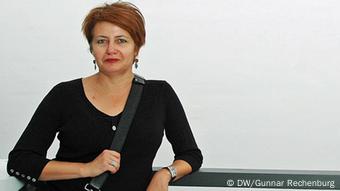 Carine Debrabandère
What role can the media play in any peace processes?
An extremely important one, especially with radio because it's the number one medium there. Many international NGOs have for years been active in Kivu and DW Akademie has been teaching "conflict sensitive journalism" there. For us this means professional journalism which enables those who have been affected to speak out and which also points toward solutions. After a DW Akademie workshop held in 2008, participants established the "Club des journalistes sensibles aux conflicts" in Bukavu, South-Kivu. Eight radio stations are taking part. Every month the young journalists produce radio features and share them with the other member stations.

Is there hope for DR Congo?
Yes, and the work of these young journalists proves that. "Watch out," many of them say, "we're soon going to have an African Spring." At this point Congolese journalists still rely heavily on official bulletins instead of their own research, the interviews are often too long and the questions too broad. However, the work done by the "Club des journalistes sensibles aux conflitcs" shows that audiences do want professional formats. Our colleagues there are also aiming to develop a greater presence on the Internet.


Carine Debrabandère is DW Akademie's regional coordinator for Central Africa and travels regularly to the Democratic Republic of the Congo, Ruanda and Burundi. DW Akademie began the "conflict-sensitive journalism" project in 2008 together with nine local partner stations. The aim is to sensitize journalists to conflict-sensitive reporting and thereby support the cross-border peace process. Nine workshops are planned for 2012.