The court ruled Wednesday that Kilic be released from detention in Izmir in western Turkey on the condition that he report regularly to police until a trial verdict is reached.
"It is an enormous relief that Taner will soon be back with his wife and daughters, sleeping in his own bed for the first time in almost eight months, said Amnesty's Europe director, Gauri van Gulik, while vowing full acquittal would be sought.
The move follows similar conditional releases last October of 10 other activists, including a German and a Swede, who, like Kilic, had been detained last July while attending a workshop on digital security on an island off Istanbul.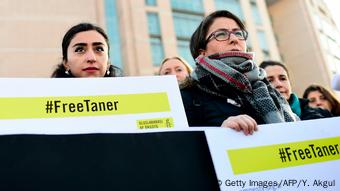 Rights activists outside the Istanbul courthouse
Flash-point in EU-Turkey relations
Kilic has denied that his phone contained ByLock, an encryption application, which Ankara claims was created for supporters of Fethullah Gulen, the US-based Muslim preacher accused of trying to overthrow President Recep Tayyip Erdogan in 2016.
Those arrested faced terrorism-related charges punishable by up to 15 years jail if convicted. The case ranks as a flash-point in Turkey's tense relations with the European Union.
Kilic made his court appearance Wednesday from Izmir in western Turkey via video-link, telling the Istanbul court that his innocence had been proven in reports already submitted.
Two independent forensic analyses found no evidence that ByLock had been on Kilic's phone, according to Amnesty.
Only 'half joy'
While Kilic's supporters hugged and wept amid thunderous applause, Gulik said, "We will continue our struggle to have all charges dropped against Taner, the Istanbul 10, and all other innocent victims wrongfully caught up in this vicious crackdown."
"It's only half joy, Feray Salman of the Human Rights Joint Platform (IHOP) told DW, "because his circa eight months imprisonment was arbitrary and unwarranted.
Amnesty researcher on Turkey Andrew Gardner said it was unlikely activists would receive fair trials.
"The overall environment is, of course, very negative and in these cases it is very hard to believe that a fair trial will be respected," he said.
Last October's conditional releases saw Peter Steudtner of Germany and Ali Gharavi of Sweden return home.
With Kilic's release, all activists remain on trial but without detention.
ipj/sms (AFP, dpa, AP)