The decades-long introduction of the single EU driving license is due to the insistence of some member states, principally Germany, but also Austria, Belgium and France, to preserve their national driving licenses.
The new credit card sized permit will replace the 110 existing versions currently used in various parts of the EU, the parliament agreed at a second reading of the relevant bill in Strasburg.
"The common EU driving license will play a major role in improving security on European roads and in fighting fraud," said EU Transport Commissioner Jacques Barrot. "Each European driver will carry a driving license that is clear, modern and recognized in all EU member states."
The fight against license tourism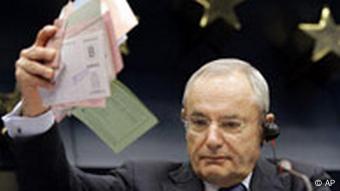 Barrot said a common driver's license would help fight crime
The measure should also combat so-called driver's license tourism by forcing member states to refuse a driver's license to an applicant whose permit was restricted, suspended or withdrawn in another member country.
"The times when people convicted of drunk driving could simply get a new license in another country will soon be over," German Socialist lawmaker Willi Pieczyk said.
For Germans, however, holding on to the old-fashioned tri-fold driver's license is a sentimental matter -- even though it is no longer issued by German licensing officials.
"I said to my (German) colleagues, you can always keep the old tatty one ... You can even frame it when you get back home," said Mathieu Grosch, the Belgian parliamentary member who directed the issue.
Among the licenses that still fill wallets and glove compartments were issued by states that no longer exist such as the former East Germany, Grosch added.
Two-decade transition phase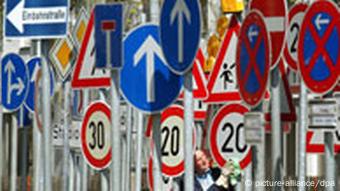 EU members have an even harder time agreeing on common street signs
The measure passed on Thursday was a compromise pulled together by member states in the spring after two years of tough talks.
The new European law does not harmonize the various tests and methods used across the bloc for obtaining licenses to drive motorbikes, cars and commercial trucks and allows nations to decide individually if they will demand health or vision tests before a license can be renewed.
By 2013 at the latest all new licenses should be issued in the new format. In some countries they will be available earlier. Old licenses, issued before 2007, must be exchanged by 2033 at the latest.
The new EU licenses are expected to be renewable every 10 years for motorcycles and cars, although member states could opt for a 15-year renewal period.