Controversy has erupted at the University of Cape Town (UCT) following vandalism of a statue of Cecil John Rhodes - a British-born mining magnate and South African politician active in the late 19th century. A group of students threw a bucket of excrement over the statue and later wrapped it in garbage bags. They also staged a protest on campus.
The demonstrators are calling for the statue's removal and have mounted a "Rhodes must fall" campaign on social media.
An active promoter of British colonialism and racial segregation in his time, Rhodes is seen by some as a symbol of white oppression. Adding to this symbolism, the mining magnate's name also marked the colonial map of southern Africa for decades, with "Rhodesia" a colonial term for territory that now combines modern-day Zimbabwe and Zambia.
In an open letter on the university's website posted on March 19, several students said that removing the statue would "end the unreflective public glorification of Rhodes at the expense of the legitimate feelings of those the statue offends on a daily basis."
The monument, unveiled in 1934, depicts Rhodes in a seated position. The university campus was built on land donated by Rhodes.
UCT Vice-Chancellor Max Price agreed that the statue be taken down - but also noted that the decision had to be made by the university council. He has proposed talks for staff and students ahead of a council meeting on April 15.
Tip of an iceberg?
According to Belinda Bozzoli, Shadow Minister of Higher Education for South Africa's Democratic Alliance party, the protests could have been partly triggered by "a recent rise in race consciousness in South Africa, which has highlighted some of resentment felt by black people."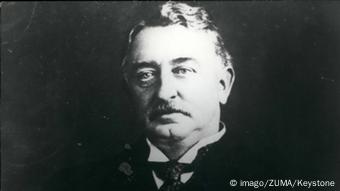 Rhodes is widely viewed as a champion of racist policies
"Another influence could have been UCT staff, who have previously pointed out that the university has very few black academics," Bozzoli told DW.
However, she also pointed out that the removal of a statue was a largely symbolic act that would not address any underlying issues that may exist.
This idea is reflected in the official statement by the UCT Student Parliament on the university's website from March 20. While confirming its majority vote in favor of removing the statue, it also uses the opportunity to address more complex problems.
"It is important to note that the statue is simply a symbolic physical representation of institutional racism," the statement reads. "Issues like the transformation of the curriculum, which is Eurocentric and undermines black voices, as well as staff demographic transformation are at stake."
South African universities in trouble
To Bozzoli - herself an academic and former deputy vice chancellor of the University of the Witwatersrand - the small percentage of black academics is the main race-related problem faced by South African universities.
"Unfortunately, the key to solving this problem is money," said Bozzoli. "There is no money for new academic posts in South Africa. Student numbers are expanding but staff numbers are stagnant. I don't expect this to change in the near future."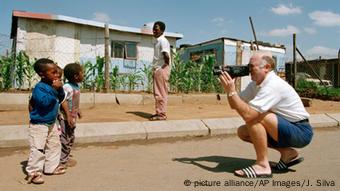 Racial inequality is still a major issue in South Africa
She also admitted that South Africa still had a long way to go in eradicating racism completely.
"Proper reconciliation hasn't been truly achieved yet," said Bozzoli. "Reconciliatory ideas vanished from politics with Nelson Mandela's death. Nobody is talking about reconciliation much today."
But she doesn't believe that the squabble over the statue of Cecil John Rhodes at UCT was the start of a new phase of debates on colonial symbolism in the country.
"There are many people here who don't even know who Cecil Rhodes exactly was," said Bozzoli. "This whole debate could turn out to be a storm in a teacup."