After Cologne's defeat in Mainz, Peter Stöger walked around the mixed zone looking dejected. He knew he'd reached rock bottom after his team's twelfth Bundesliga match without a win. One of the questions he was asked by journalists was whether the next two games, against Arsenal and Hertha, are must-wins for the German side. He replied that at this point, every match is a must-win.
One could expect such comment from a coach of any struggling team in any league, but in the case of Cologne, the course of events triggered a reaction for the coach. After Cologne's sporting director Jörg Schmadtke left the club, it has been made clear by the club's management that it's going to take a lot more than one bad spell for Cologne's longest serving coach to be dismissed. The players told the club's chiefs that Stöger should not be sacked in a crisis meeting that took place at the club's training ground in midweek.
Mental state
Cologne had to win in order to stand a chance of qualifying forthe next round, a feat many Cologne fans couldn't even dream of after their team lost the first three matches of the Europa League group stage. But they brought something to the game that Arsenal were severely lacking: Spirit.
Attack has been Cologne's biggest weakness since the beginning of the season, and Stöger knew it cannot go on if his team is to pull it off. His choice of a tactical set-up with three strikers showed he's up for the battle, and while Arsenal was the dominant side during large parts of the game, Stöger's players looked like they're willing to put their bodies on the line. Wing-back Konstantin Rausch got himself injured after a strong tackle, and Jannes and Timo Horn collided with each other in a bid to prevent Olivier Giroud from scoring from a comfortable position. They all continued to play till the final whistle, despite their apparent pain.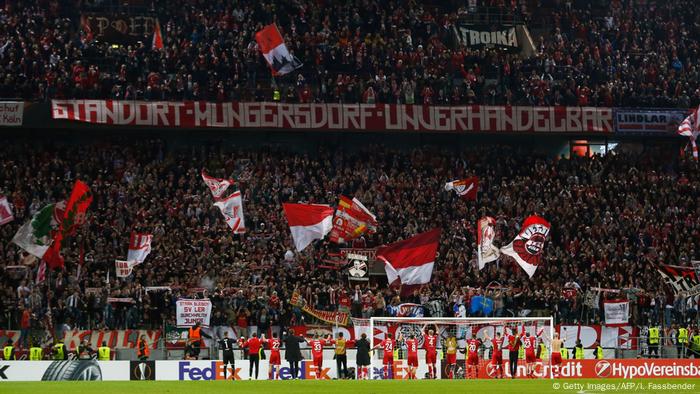 Cologne's players and fans both showed support for Stöger
The beginning of survival?
Cologne managed to get a goal after a brilliant combination between Milos Jojic and Sehrou Guirassy won and scored a penalty, justifying Stöger's belief in him. Injured goalkeeper Horn pulled off two phenomenal saves within the last three minutes to deny the North London side the equalizer, and the Bundesliga's bottom club made sure to see the game through. A 1-0 win, inspired by Cologne's insistence to keep the coach during hard times rather than do the obvious and dismiss him.
Cologne's fighting spirit paid off in a way that many of the club's fans wouldn't have thought that's possible just a couple of days ago. Now their task would be to keep it up until Sunday, when they'll face fellow Europa League team Hertha Berlin. Winning there could signal the beginning of a special survival journey, one that many thought was impossible.