Some 185 galleries from 28 different countries will be display their collections when the 40th edition of the annual Art Cologne fair opens its doors on Wednesday. Organizers say they hope this year's fair will attract 70,000 visitors.
One of the highlights this year is the "Open Space" section, which is dedicated to up-and-coming young artists.
"You need the next generation," Art Cologne Director Gerard Goodrow told DW-RADIO. "We see this very clearly with both galleries and artists. The potential of the next generation is a guarantee for the future since gallery owners and artists are always retiring, and collectors sometime stop buying in their later years."
The Open Space concentrates on installations. But that's not the only genre being featured at the fair.
"There's a trend toward sculpture," Goodrow said "But what we're also seeing at Art Cologne is a new interest in works on paper -- above all drawings."
In addition, this year's fair includes a new section entitled "Hidden Treasures," which is devoted to artists over the age of 40 whose works have yet to make the mark they deserve on the art market.
Productive Self-Questioning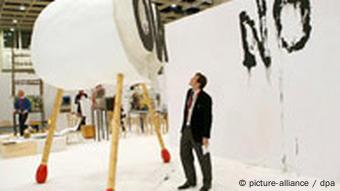 Organizers hope the public will say "yes" to the new-look art fair
Founded in 1967, Art Cologne was the world's first art trade fair and has long been considered the most important event of its kind in Germany. But it's suffered recently from competition from rival events in London, Basel and Berlin. The number of galleries participating is down from 250, and only three from the United States are in attendance.
Goodrow, who took over the fair in 2003, has been trying to guide it out of a fallow period by emphasizing youth and innovation.
"It's something that we've learned especially from young artists, gallery owners and collectors. If you get too complacent, nothing happens and other cities like Berlin and London gain in importance. Constantly calling yourself into question leads to innovation and progress."
In that avant-garde spirit, Art Cologne is staging a special showing of works by Greek artist Jannis Kounellis. Born in 1936, Kounellis is considered a leading member of the
arte povera
movement. One highlight of Art Cologne is a recreation of a famous Kounellis installation from 1969, consisting of 12 live horses chained to walls.
Art Cologne 2006 runs through Nov. 5. But whatever critics' and art lovers' reactions to the event, big changes are afoot. To avoid competition in the art world's jam-packed autumn schedule, next year's fair will be held, for the first time ever, in the spring.