Cockpit announced on Tuesday evening that its members working for Germanwings would down tools on Thursday and Friday, the latest pilots' strike in a months-long dispute between flagship carrier Lufthansa and the trade union.
All Germanwings flights departing from German airports during the 48-hour period would be affected, Vereinigung Cockpit (VC) said, adding that its most recent attempts to mediate had failed earlier this week.
"With this, Lufthansa again documents its lack of willingness to strike a deal, causing further strikes," VC spokesman Jörg Handwerg said. Tuesday's statement on the Cockpit website also claimed that Lufthansa's latest proposals planned for "a clear deterioration, or even abolition, of transitional support for young pilots," calling this "unacceptable for VC."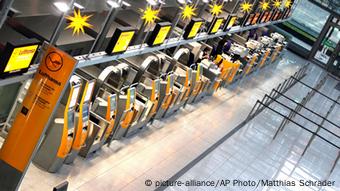 Cockpit strikes targeting Lufthansa peaked last December
One key area of disagreement in the labor dispute is the terms of retirement for Lufthansa pilots, with the carrier seeking to increase the age at which pilots qualify to take early retirement. The union has also balked at future plans to provide no early retirement option for newly-hired pilots.
Lufthansa's main airline faced a string of similar strikes in 2014, peaking with two walkouts in the space of a week last December. Back in October, the airline claimed that the 2014 strikes to date had cost it roughly 160 million euros ($181 million). A trade union for pilots and flight engineers, Cockpit has roughly 9,300 members.
The influence of Cockpit, and train drivers' union GDL, in a series of public-transport-related strikes in Germany last year has prompted the government in Berlin to seek new legislation limiting the powers of smaller, niche trade unions. A draft bill, seeking to make deals struck with larger unions applicable to all employees, is due for parliamentary debate this year.
Germanwings, and regional budget airline Eurowings, have become key arrows in the Lufthansa quiver as the airline seeks to manage competition from European low-cost carriers such as Ryanair and EasyJet, and from Gulf operators like Emirates, Etihad and Qatar on lucrative long-haul routes.
In a separate strike on Monday run by trade union Verdi, security staff at airports in Hamburg, Stuttgart and Hanover downed tools as part of a pay dispute. Hamburg's airport was temporarily forced to shut its terminal building to combat overcrowding.
msh/bw (AFP, Reuters, dpa)