Thousands of environmental activists formed a human chain at a controversial open cast mine in western Germany on Saturday, demanding that the country accelerate its transition to clean energy and end its use of coal.
Some 3,000 people, including environmentalists, Green party members and local residents formed the 1.2 mile (2 km) long chain to send a message to RWE, the German energy giant, that it could come "this far and no further."
RWE wants to extract a soft, brownish form of coal known as lignite, to burn in German power plants.
Dressed in red, environmental groups like the German Federation for the Environment and Conservation of Nature (BUND) said that given the rapid acceleration of global warming the country's transition to clean, carbon-free, sources of energy needs to accelerate, too.
"We need a law for the phasing-out of coal, we need structural measures for the people, for the region, jobs and a push for the switch to green energy," BUND head Hubert Weiger said ahead of the demonstration in the village of Kerpen-Mannheim, about 18 miles (30 km) west of Cologne.
Plans call for renewed mining of lignite from the site beginning in 2023 at the massive Hambach mine in Elsdorf.
Demonstrators block a railroad track to protest the continued use of brown coal
Green's join the chain
In addition to the BUND and regular citizens, politicians from Germany's Green Party also joined the chain, as did members of Greenpeace and the German Environmental alliance (Umwelt-Allianz Deutschland).
"We have experience with the German government that a start to the phase-out of coal will not be possible," Weiger said, demanding that the subject top the agenda of the next government after the general election on September 24.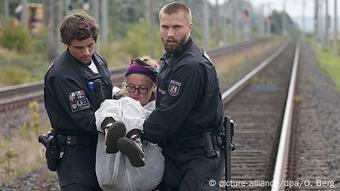 A protester is removed from the train track
Polls show Chancellor Angela Merkel and her right-of-center Christian Democratic Union (CDU) party leading in opinion polls about 15 percent.
Weiger warned that if the federal state where the mine is located doesn't dramatically reduce the amount of lignite that is burned Germany will not be able to meet its climate change obligations.
The human chain is one of many protests that began on Friday and were scheduled to continue through Tuesday. On Friday, activists managed to disrupt RWE's operations to the extent that the company had to curtail production at one of its power plants.
The activists also set up blockades in various locations on Saturday. Police vehicles were attacked with slingshots and firecrackers from the cover of neighboring woods during the night. But there were no injuries reported.
bik/rc (dpa, AFP, epd)