Raids against alleged "clan criminality" were staged in 10 cities across Germany's most populous state, North Rhine-Westphalia (NRW), on Saturday evening by regional and federal police squads, joined by customs and tax enforcers.
NRW's government, led by Chancellor Angela Merkel's conservative Christian Democrats (CDU), last year adopted a tougher stance after a police report attributed 14,000 crimes over a three-year period to 104 clans, comprising 6,500 suspects. The industrial city of Essen was identified as a clan stronghold.
Read more: Germany cracks down on clan crime with 'zero tolerance'
Locations raided simultaneously on Saturday included hookah water-pipe smoking rooms and an ostensible teahouse in the large Rhine river city of Duisburg, containing 17 non-registered gambling machines, said police.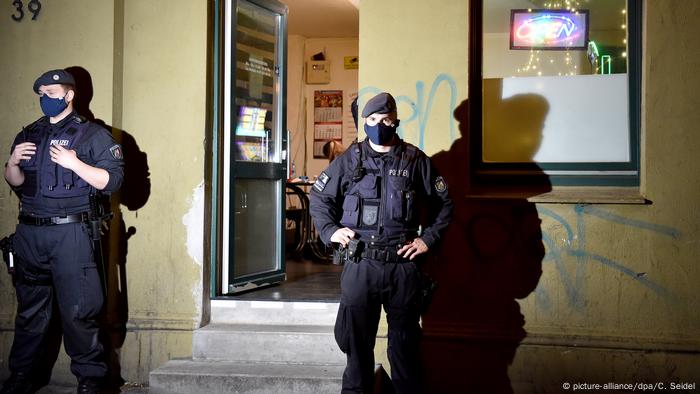 Searches also took place in Bochum, Gelsenkirchen, Wuppertal and Bochum
In Dortmund, authorities found untaxed tobacco in two hookah premises, known in Germany more often as Shisha bars.
Access to the back room of an internet café in Essen was hidden by a locker. Behind it, authorities said they found automatic gambling devices and tables.
Elsewhere in Essen, officers searching a bistro found three suspected illegal gaming machines and a poker table.
Read more: German state vows crackdown on criminal clans
'This is over'
Visiting Essen during Saturday's searches, NRW interior minister Herbert Reul said he had a clear message: "The rule of state law applies and not law set by families."
"It is about showing those who make these cities unsafe in everyday life: This is over, you'll encounter trouble [from authorities] here every day,'' insisted Reul, a CDU member of the NRW cabinet that includes Free Democrat (FDP) liberals.
Also involved in Saturday's sweep was a special regional agency for lotteries and money-laundering prevention from Düsseldorf, NRW state's capital.
Read more: German police raid suspected people trafficking gangs
Searches also took place in Bochum, Gelsenkirchen, Wuppertal and Bochum.
Last week, police and tax officials staged a similar series of searches in and around Oberhausen, near Duisburg.
ipj/shs (dpa, AFP)